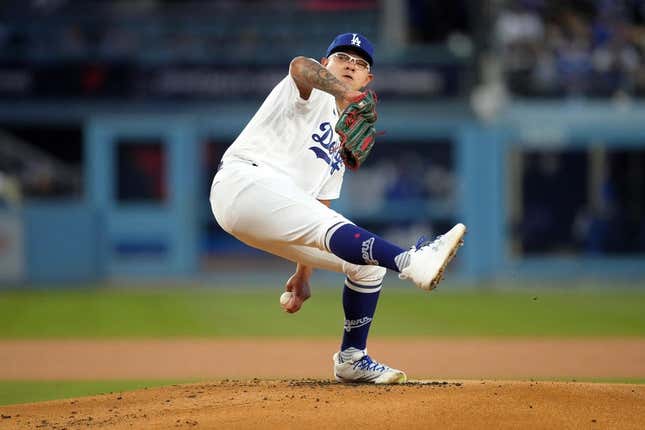 The resumption of one of Major League Baseball's most storied rivalries will begin Monday night when the Los Angeles Dodgers visit the San Francisco Giants for the opener of a three-game series
Bass' ERA stinks, but not compared to who he is off the mound | Worst of the Week Countdown
The game will feature a matchup of aces as San Francisco right-hander Logan Webb will face Dodgers lefty Julio Urias
For San Francisco, Webb (0-2, 6.55 ERA) will look to get on track at home. He has pitched twice on the road this season -- against the Chicago White Sox on Wednesday and the New York Yankees on Opening Day -- after going 15-9 overall with a 2.90 ERA last year.
The start against the White Sox was especially frustrating for Webb, who is 2-4 with a 4.44 ERA in 10 career starts against the Dodgers
"I wasn't getting ahead in counts," he said after that game.
Even without being at his best in his first two starts, Webb still has 16 strikeouts in 11 innings.
San Francisco enters the series boosted by a 3-1 comeback win Sunday against the Kansas City Royals. Michael Conforto was the hero with a two-run home run with two outs, capping a three-run eighth inning.
Los Angeles, meanwhile, has lost three in a row in dropping three of four at the Arizona Diamondbacks.
The Giants will run into a hot pitcher on Monday in Urias (2-0, 1.50), who has cemented his spot at the top of the Dodgers' rotation
Urias always has been difficult to hit, and this season, he's added another pitch for batters to figure out -- a cutter. It was effective in his 5-2 victory over the Colorado Rockies in his outing on Tuesday.
"I spent this offseason working on it," Urias said via a translator after that start. "I didn't throw it in the World Baseball Classic (in March). I wanted to save it for the regular season, and I feel good with it."
Urias has struck out 12 in 12 innings this season. He has pitched effectively in his career against the Giants, posting a 6-4 record and 2.12 ERA with 111 strikeouts in 25 appearances (19 starts)
For the series at San Francisco, the Dodgers have lined up their top starters: Urias, Dustin May (Tuesday) and Clayton Kershaw (Wednesday)
Against the Diamondbacks, Los Angeles' pitching was shaky. In Sunday's 11-6 loss, Dodgers starter Michael Grove gave up nine runs in 3 1/3 innings. And on Saturday in a 12-8 setback, the Dodgers blew a four-run first inning lead
"We got beat in every facet," manager Dave Roberts said Sunday, looking back at the series against the Diamondbacks.
And that was especially true when it came to the pitching corps. Through the first 10 games, the Dodgers' ERA is 4.55. Last season, the team led the major leagues with a 2.80 ERA
"The last couple of days, it's easy to see," Roberts said. "We didn't pitch well."
Dodgers catcher Will Smith did not start on Sunday at Arizona, as the All-Star was given a breather from behind the plate. But Smith ended up playing because Austin Barnes was ejected in the fifth inning. Shortstop Miguel Rojas returned to the starting lineup on Sunday after nursing a groin injury
To add a right-handed bat to their roster, the Giants called up outfielder Heliot Ramos from Triple-A Sacramento. The need for outfield depth was created because Mitch Haniger and Austin Slater are on the injured list
Ramos, 23, appeared in nine games last season for the Giants, batting .100 (2-for-20)
--Field Level Media