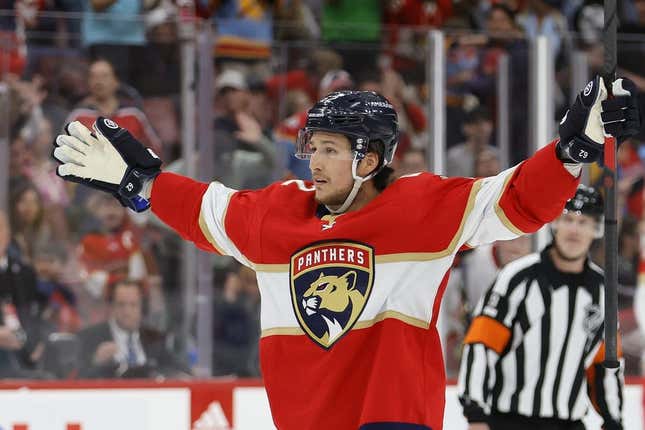 Third-string goalie Alex Lyon was sensational with 56 saves for his career-best fifth straight win, leading the Florida Panthers to a 7-2 victory over the visiting Ottawa Senators on Thursday night in Sunrise, Fla
Chris Paul should ride the bench next season | Keep it a Buck(et)
Filling in for Sergei Bobrovsky (non-COVID illness), Lyon made the second-most saves in Panthers history. Roberto Luongo set the record with 57 in 2002
With three games left, the Panthers (41-31-7, 89 points) are in wild-card playoff position, with the New York Islanders, Pittsburgh Penguins and Buffalo Sabres still in contention for the two available spots. The Panthers extended their season-best winning streak to five games and have outscored their opponents 24-7 during that stretch
Besides Lyon, the Panthers were led by Aleksander Barkov, who scored two goals and dished one assist. Panthers star Matthew Tkachuk had two assists, giving him a career-high 105 points to eclipse last season's mark of 104
Florida defenseman Brandon Montour added one goal and three assists, matching the franchise record for points in a game by a defenseman. Sam Reinhart, Eetu Luostarinen, Nick Cousins and Gustav Forsling also scored for the Panthers
Florida went 3-for-6 on its power play, and the Panthers also scored short-handed. The Panthers also went 6-for-6 on their penalty kill, and they even extinguished a 5-on-3 disadvantage
Ottawa (37-35-7, 81 points) lost its fourth straight game and was eliminated from playoff contention.
Claude Giroux and Ridly Greig scored for the Senators, but Leevi Merilainen, in just his second NHL game, allowed three quick goals and was lifted with 18:36 left in the second period. Fellow rookie Mads Sogaard finished the game and made 14 saves on 18 shots
There were numerous fights in the game, including one sequence in the second period when the Tkachuk brothers -- Florida's Matthew and Ottawa's Brady -- fought other players.
Both brothers were ejected at different points in the game.
There was just one fight in the first period, but the nastiness started with 16:52 left in the second. The Panthers led 3-0 when Matthew Tkachuk leveled a hard right shoulder to the upper chest of Alex DeBrincat, who hit the ice. A fight quickly ensued as the Senators charged Tkachuk. It was ruled a clean hit
One minute later, Brady Tkachuk lost the edge of his skate and ran into Lyon. He then bumped Lyon as he skated past him. No penalty was called.
That led to Giroux's goal with 15:35 left in the second. Giroux pounced on a loose puck, scoring from the slot, and Drake Batherson was credited with the assist.
However, the Panthers scored the next four goals for five in total in the second period, entering intermission with a 7-1 lead
--Field Level Media