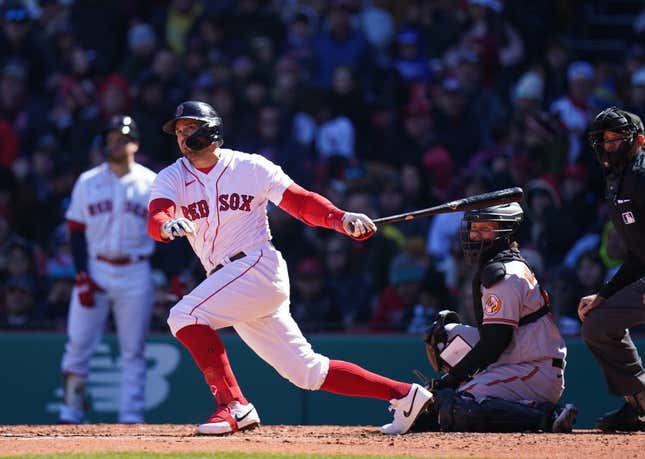 Few players are off to a better start at the plate this season than Boston center fielder Adam Duvall, who will try to help the Red Sox pull even in their series with the visiting Pittsburgh Pirates on Tuesday night
Bass' ERA stinks, but not compared to who he is off the mound | Worst of the Week Countdown
Duvall, 34, was named the American League Player of the Week on Monday after he collected eight hits and eight RBIs during Boston's season-opening, three-game series against the Baltimore Orioles. He became the first Red Sox player to have six extra-base hits -- three doubles, a triple and two home runs -- in his first three games with the team
Duvall remained hot on Monday when he had two hits and walked twice in Boston's 7-6 loss to Pittsburgh during the opener of a three-game series.
"We all knew that he was going to love Fenway Park," Boston shortstop Enrique Hernandez said. "He was going to love the Green Monster being that close. He drives in runs, and when he hits the ball, he hits it really hard."
Duvall had a chance to give the Red Sox the lead in the eighth inning on Monday, but he grounded out to shortstop with runners on second and third to end the inning. The Red Sox stranded 12 runners in the game
It was a breakout night on offense for the Pirates, who were coming off back-to-back road losses to the Cincinnati Reds in which they were limited to three total runs
Center fielder Bryan Reynolds highlighted the offensive effort on Monday by hitting two home runs. It was the fourth multi-homer game of his career, and one of those came last August vs. the Red Sox
Boston has allowed 30 runs in its four games yet is 2-2.
"They swung the bats well," Boston manager Alex Cora said of the Pirates. "The ball was flying. We just didn't make pitches. Reynolds put some good swings ... did what he usually does. We have to pitch better.
The Pirates are scheduled to start Roansy Contreras on Tuesday. Contreras was shuffled between Pittsburgh and Triple-A Indianapolis last season, when he finished 5-5 with a 3.79 ERA at the major league level
Contreras will be opposed by 30-year-old Nick Pivetta, who made 33 starts last season and led the Red Sox staff in innings pitched (179 2/3). He finished the season with a 10-12 record and a 4.56 ERA
The Pirates have been forced to rework their rotation after moving JT Brubaker from the 15-day to the 60-day disabled list Sunday because of elbow discomfort
"It changes the calculus of the rotation in that we planned on (Brubaker) being in it," Pittsburgh manager Derek Shelton said. "Now, we're finding out that it's going to be a lengthier time, so that adjusts it right now."
The Pirates put Brubaker on the 15-day injured list on Opening Day. He was slowed by elbow issues in 2019, when he managed just six appearances in the minor leagues
Monday began a stretch of nine straight games for the Pirates against American League teams. After facing Boston, Pittsburgh will have its first homestand, three games against the Chicago White Sox and three against the Houston Astros
--Field Level Media