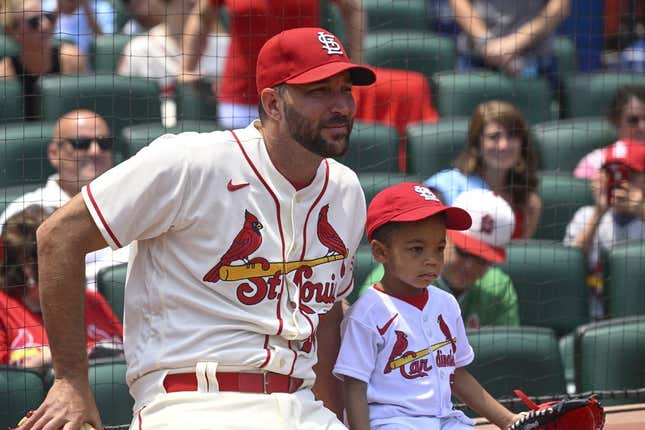 Adam Wainwright's farewell tour with the St. Louis Cardinals has not gone as hoped
How running an NFL team is like running a restaurant | Chef Emeril Lagasse
Wainwright (3-2, 6.56 ERA) has just one quality start in nine tries heading into his Thursday assignment against the visiting Houston Astros
The Cardinals won the first game of the three-game set 4-2 on Tuesday and the Astros rallied for a 10-7 victory on Wednesday
Wainwright is coming off of a 9-1 loss to the Chicago Cubs on Saturday in London, where he allowed seven runs on 11 hits in three-plus innings.
"It was a perfect storm of horribleness," the right-hander said. "I'm pretty sad about it, honestly. Pitched terrible. Trying to make Cardinals fans, and we didn't make any because of me
"It's 2-1 without me in the game. That whole game was my fault. I pitched terrible and I put our team in a bad spot and lost the game because of me. I don't know what else to say."
Wainwright, 41, plans to retire after this season. He experienced a spring setback when he strained a groin muscle while training with Team USA at the World Baseball Classic.
He had his best start of the season on June 17 -- the start before the London outing -- when he earned a 5-3 victory over the New York Mets while allowing three runs in 6 1/3 innings. Then came the loss in England as he struggled with his curveball, cutter and fastball.
"Not leaving me with a whole lot to pitch with," Wainwright said. "Sometimes when you're playing golf, the hole looks really small. Today, the strike zone looked really small. I didn't feel comfortable out there. That's one of the worst starts of my career. I hate to do it on an international stage."
Wainwright is 13-1 with a 1.48 ERA in 22 career appearances (16 starts) against Houston.
The Astros will counter Wainwright with rookie J.P. France (2-3, 3.54 ERA), who is 1-2 with a 3.08 ERA in four starts this month. He reached the quality-start metric in each of those outings
"Gotta just control what you can control," France said. "Just go out there, eat innings, keep giving quality starts and keep giving my team a chance to win."
He credited an improved cutter for his improved success this month.
"I've tweaked my grip. I've got the velo back up," France said. "It's been a pitch that's worked for me for the past two, three years, and for me, I feel like it's gonna be a pitch that continues to work and gets outs for me."
France allowed three runs in six innings in his latest outing, a 3-2 loss to the Los Angeles Dodgers on Friday. He has allowed a homer in seven of his nine starts.
He will be facing the Cardinals for the first time
The Astros got second baseman Jose Altuve back in the leadoff spot on Wednesday after he missed two games with a sore heel. He hit a three-run homer in the eighth inning to trigger Houston's rally
Cardinals third baseman Nolan Arenado, who homered in the first inning on Wednesday, left after five innings due to lower back tightness. He was considered questionable for Thursday
--Field Level Media