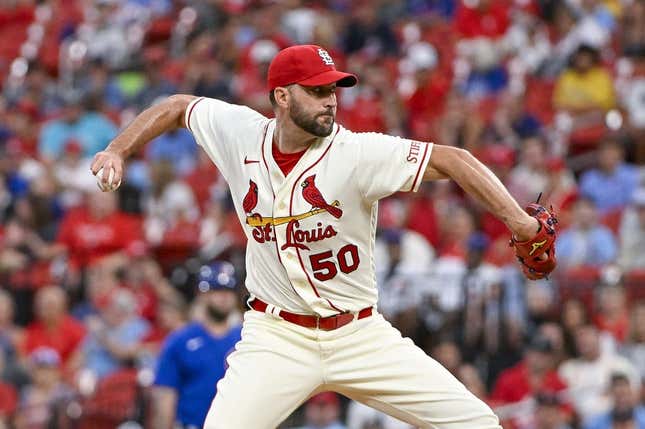 St. Louis Cardinals pitcher Adam Wainwright, entering the third start since his return from the injured list, believes he is ready to add to his career victory total
How running an NFL team is like running a restaurant | Chef Emeril Lagasse
Wainwright (3-5, 7.18 ERA) will bid for his 199th win on Friday when the Cardinals host the Colorado Rockies to open a three-game series
After a groin muscle strain sustained in the spring delayed the start of his season until May 6, Wainwright has struggled in his bid to reach the 200-victory plateau. He has been stuck on 198 since June 17. He also missed 19 days in July due to a right shoulder strain
In his latest outing, the 41-year-old right-hander allowed four runs on seven hits and three walks in six innings during a 5-1 loss to the Chicago Cubs on Saturday
"I felt good out there," Wainwright said after the defeat. "I felt in control most of the time. I got the ball on the ground again, which is good. Usually when I'm getting those grounders, that means I'm getting that late little bite on the ball.
Wainwright plans on retiring after this season. Since the Cardinals subtracted starting pitchers Jordan Montgomery and Jack Flaherty ahead of this week's trade deadline, Wainwright should get every chance to reach his milestone as he completes his farewell tour
"I feel very confident that we're going to win a bunch of games for me going forward," Wainwright said. "People keep saying, 'Just two more.' I'm like, 'I've got two months of starts.' Two is not that goal. But it was a nice start. We'll go there first.
History may be on Wainwright's side on Friday. He is 12-1 with a 1.38 ERA in 18 career outings against the Rockies, including 14 starts
Both teams are in slumps entering the weekend series. The Cardinals have lost five of seven games, and the Rockies have lost six of eight games
Right-hander Chris Flexen (0-5, 8.08 ERA) is set to make his second start with the Rockies
Flexen posted a 7.71 ERA in four starts and 13 relief appearances for the Seattle Mariners this season. The New York Mets acquired him in a trade with the Mariners, but they released him without using him
The Rockies signed him as a free agent on July 14. In his first start for Colorado on Friday, he allowed six runs (five earned) on four hits, including two homers, and six walks in 3 2/3 innings against the Oakland A's
Flexen took the loss as Colorado fell 11-3
"He'll be the first to tell you, I'm sure, six walks will come back to get you," Rockies manager Bud Black said
Flexen said postgame, "I had zero feel for the changeup tonight, and I think I threw them maybe cumulatively about 40 feet. Just a tough one. Overall, I just had a lack of consistency. I threw strikes at times, there were times I'd miss high, (I'd) try to make an adjustment then overcook it and miss low. It's one of those days, nothing too specific.
Flexen is 0-3 with an 11.57 ERA in three career appearances (two starts) against the Cardinals. He lost to St. Louis on April 23, when he yielded six runs on nine hits in four innings
Cardinals infielder Nolan Gorman is questionable for Friday after he was a late scratch Thursday due to bruised right foot. He has played just one game since Saturday, also missed time because of lower back stiffness
--Field Level Medi