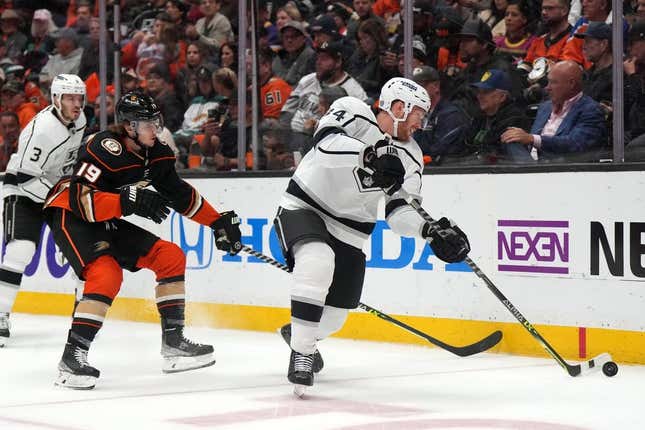 Adrian Kempe collected a hat trick in a four-point outing and Viktor Arvidsson added three assists as the visiting Los Angeles Kings claimed a 5-3 victory over the Anaheim Ducks on Thursday to clinch third place in the Pacific Division
Will South Beach Flu give the Heat home court advantage? | Keep it a Buck(et)
Anze Kopitar netted one goal and one assist and Trevor Moore also scored for the Kings (47-25-10, 104 points). Goaltender Joonas Korpisalo made 21 saves in the regular-season finale for both clubs. Los Angeles' Matt Roy and Drew Doughty both notched two assists
Troy Terry collected one goal and one assist while Max Jones and Trevor Zegras added singles for the Ducks (23-47-12, 58 points), who finished at the bottom of the league standings. Goalie John Gibson stopped 31 shots
Anaheim lost a franchise-record 13 games (0-11-2) to finish the season.
With the Ducks holding a 1-0 lead, Kopitar sparked the Kings when he netted his 28th goal of the season at the 16:57 mark of the first period. Kopitar attempted to deflect a high point shot, but he knocked down the puck to his feet and he promptly buried the chance
Kempe and Moore tallied 49 seconds apart just past the midway point to send the visitors off and running.
Kempe netted a power-play goal at 10:15 of the middle frame when his one-timer from the right circle was shown on replay to have crossed the line and bounced out of the goal as Gibson knocked the net off its moorings.
Moore extended the lead right after when he stole the puck at the offensive blue line and played give-and-go with Arvidsson before he buried his shot for his 10th of the campaign.
Jones tallied 87 seconds into the third period when he redirected Kevin Shattenkirk's pass for his ninth of the season to make it a one-goal game.
Kempe converted his second of the game and 40th of the season six minutes later with another one-timer from the right circle for a five-on-three power-play marker.
Zegras again brought the Ducks within one with 5:09 remaining in regulation when he finished a three-way passing play for his 23rd of the season, but Kempe added an empty-netter with 1:39 remaining to round out the scoring in what became a heated affair
The Ducks held a lead with Terry's 23rd goal of the season to open the scoring at the 2:44 mark
Los Angeles will open the playoffs next week against the Edmonton Oilers (50-23-9, 109 points).
--Field Level Media