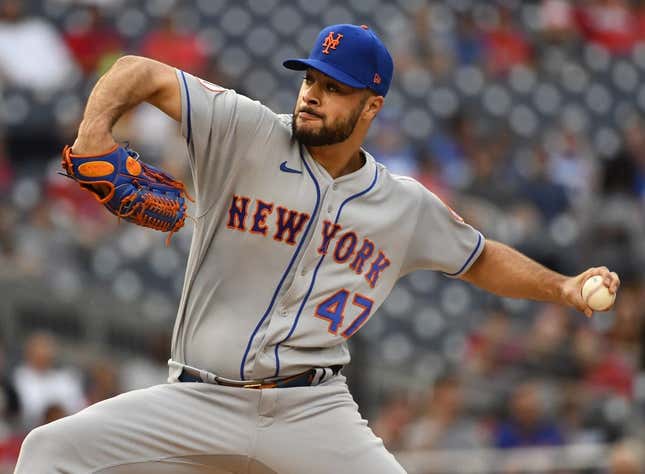 Max Scherzer began serving a 10-game suspension for violating Major League Baseball's ban on foreign substances Thursday night, which means the New York Mets' current rotation includes none of the veteran All-Stars they were counting on
Does Jimmy Butler have the best NBA Finals origin story? | Agree to Disagree
However, they do have Brandon Nimmo and Pete Alonso heading their lineup.
The red-hot duo will look to continue carrying the pitching-depleted Mets on Friday night, when New York opposes the host San Francisco Giants in the second game of a four-game series
Left-hander Joey Lucchesi is slated to make his first major league appearance in almost two years when he starts for the Mets against Giants right-hander Anthony DeSclafani (1-0, 1.42 ERA)
The Mets assured themselves of a winning record on their longest road trip of the season Thursday night, when Alonso homered and drove in four runs and Nimmo had an RBI double among his three hits as New York cruised to a 9-4 victory
The homer was the major-league-leading ninth of the season for Alonso, who became the third player in team history to go deep nine times in the first 20 games of a campaign. Dave Kingman did so in 1976, and Neil Walker matched the feat in 2016. Alonso has 19 RBIs, second most in the National League behind Atlanta Braves first baseman Matt Olson's 20.
Nimmo, who went 5-for-5 on Wednesday in the Mets' 5-3 win over the Los Angeles Dodgers, ranks second in the NL in both batting average (.368) and on-base percentage (.488)
"You never take it for granted how hard it is to hit at this level, with the best pitchers in the world," Mets manager Buck Showalter said. "I've got a really good seat to watch two good players perform. They spoil us.
The strong offense has helped the Mets -- who are 6-1 on a 10-game trek that concludes Sunday -- overcome the season-long absence of three-time Cy Young Award winner Justin Verlander (shoulder) and the struggles of Scherzer and Carlos Carrasco, who are a combined 2-3 with a 5.72 ERA
Scherzer won't be eligible to pitch again until May 1 after he was ejected from his Wednesday start against the Los Angeles Dodgers for having an excess of a sticky substance on his hand and glove.
Lucchesi is taking the rotation spot of Carrasco, who was placed on the injured list on Tuesday with inflammation and a bone chip in his right elbow.
Lucchesi last pitched for the Mets on June 18, 2021, shortly before he underwent Tommy John surgery. He is 2-2 with a 3.52 ERA in seven career starts against San Francisco
The Giants, who have lost six of seven, are hoping DeSclafani can continue his fast start. DeSclafani is tied for second in the NL in ERA and has yet to walk a batter in 19 innings -- by far the most innings of anyone without a walk this season
DeSclafani, who turned 33 on Tuesday, posted a 6.63 ERA while being limited to five starts last season due to a right ankle injury. However, went 13-7 with a 3.17 ERA over 31 starts in 2021.
"I knew what kind of pitcher I am," DeSclafani said on Saturday after he allowed three runs (two earned) over 6 2/3 innings during a no-decision against the Detroit Tigers. "And I think more than anything, I'm just glad I'm able to be healthy and just continue to progress off of how I (pitched) in '21."
DeSclafani is 0-4 with a 5.91 ERA in eight career games (seven starts) against the Mets
--Field Level Media