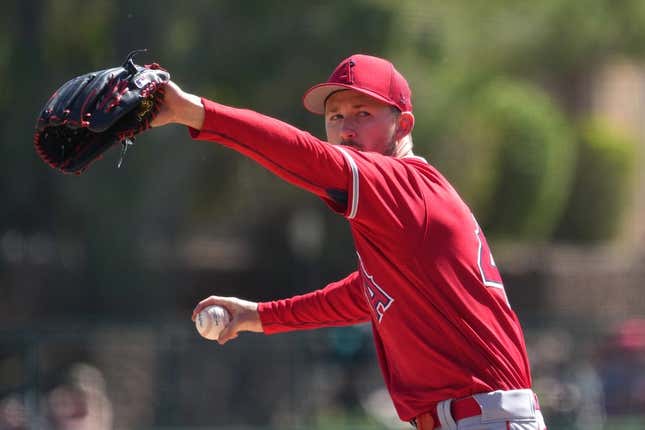 Griffin Canning will be on the mound Wednesday afternoon for the Los Angeles Angels when they wrap up their three-game series against the Washington Nationals in Anaheim, Calif
It will be Canning's first major league appearance in 21 months, with the right-hander missing half of 2021 and all of the 2022 season with a lower back stress fracture.
He returned for spring training this year and was competing for the sixth spot in the Angels' starting rotation, but in his final spring outing, he suffered a strained left groin and was placed on the injured list
After a rehab start at Class-A Inland Empire, Canning, 26, was deemed physically fit and ready to return to a major league mound.
"I feel like myself and can go out there and focus on executing pitches," he said. "I'm really excited."
With so much time off, Canning concentrated on what he needs to do to remain healthy, specifically as it relates to his back. He started doing Pilates and developed a daily routine for maintenance.
"I just feel like I know myself a little bit better," he said. "I know my body. I know if I am feeling something in certain areas, I kind of know how to get myself back on track and my recovery methods and stuff like that."
Both Canning and Angels left-hander Patrick Sandoval are from south Orange County, not far from Anaheim, and work out together during the off-season
"Seeing him in spring, that was Griff right there," Sandoval said. "Nasty. Insane stuff with everything. Just a really good pitcher. It's really exciting. I'm really excited for him, because of all the work that he's put in, come to life."
Canning has never faced the Nationals. He has a 12-13 record and a 4.73 ERA in 43 games (41 starts) in his career, all with the Angels
Washington left-hander MacKenzie Gore (2-0, 2.38), who will start Wednesday's game, has pitched well in his first two starts. He allowed just one run in 5 1/3 innings in a victory over Atlanta on April 2 and two runs in six innings in a win over Colorado on Friday.
Gore was one of six players acquired by the Nationals from the Padres for outfielder Juan Soto in a trade-deadline deal last year. Gore was on the injured list at the time, so his two starts this season are the first for him in a Nationals uniform
Despite Gore's two wins, Washington manager Dave Martinez said Gore still has not touched his potential.
"With MacKenzie, he's got to trust his fastball a little bit more," Martinez said. "I don't want him throwing a lot of breaking pitches. (His) fastball is live. Forget about the strikeouts. Strikeouts are going to happen. But when he throws his fastball like he does, and can throw it over the zone, it's a really good pitch."
Offensively, the Nationals are tied with Cleveland for last in the majors in home runs with five. They managed only one hit against ace Shohei Ohtani and two relievers in Tuesday's 2-0 loss to the Angels, but a lack of power isn't necessarily a bad thing, according to first-base coach Tim Bogar
"That's Nats offense right there," he said. "We paper cut you to death a little bit. But the bottom line is the guys battle from top to bottom, one through nine."
--Field Level Media