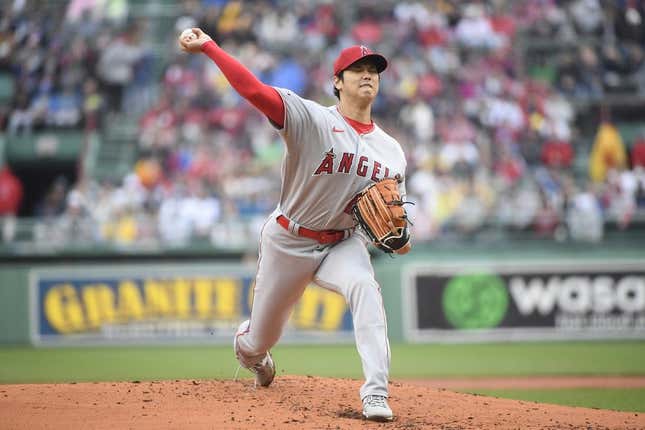 Shohei Ohtani will be on the mound to make his fifth start of the season for the Los Angeles Angels against the Kansas City Royals on Friday night in Anaheim, Calif
Bass' ERA stinks, but not compared to who he is off the mound | Worst of the Week Countdown
However, this appearance will come on three days' rest, compared to five days' rest between his other starts this year.
Reason being, Ohtani (2-0, 0.86 ERA) made just 31 pitches in his most recent start, on Monday in Boston. After Ohtani threw two innings, the game was halted in the top of the third inning and delayed by for 85 minutes because of rain.
Additionally, the start of the game was delayed by 56 minutes, so the Angels erred on the side of caution and did not allow Ohtani to return to the mound once the game resumed
"I have no control of it and there's nothing I can do, so it's time to move on," Ohtani said postgame through an interpreter. "I felt like I could go back out there, but we didn't know how long the delay would be. We had some internal discussions."
Ohtani gave up one run to the Red Sox but did not allow a hit. He has allowed only two runs and six hits in his four starts this season, covering 21 innings. He has 27 strikeouts but also has walked 13 batters, tied for second in the American League.
At the plate, Ohtani went 0-for-3 with a walk on Thursday in the Angels' 9-3 loss to the host New York Yankees, who took the rubber game of the three-game series. Overall, he is hitting .269 with four homers, 11 RBIs and an .841 OPS
It's likely that Ohtani will not have catcher Logan O'Hoppe behind the plate on Friday, even though O'Hoppe has caught all of Ohtani's starts so far this season. O'Hoppe had to be removed from Thursday's game after injuring his shoulder on a swing in the ninth inning.
O'Hoppe hit the ball into left field but went to the ground in the batter's box in pain after the swing. He was able to get up and reach first for a single, his third hit of the game. The severity of the injury was unknown.
The Royals will send out right-hander Taylor Clarke (1-0, 6.75 ERA) for his first start of the season after seven relief appearances. He likely will serve as an opener and pitch just an inning or two, to be followed by left-hander Ryan Yarbrough (0-1, 9.00)
The Royals hope that getting out of Kansas City will help their game. They are 3-3 on the road this season compared to 1-12 at Kauffman Stadium
"There's nothing you can do to rewind what just happened or the first three weeks of the season," Royals manager Matt Quatraro said. "The focus will be on staying with the process. These guys are putting in the work to come out and compete and perform better going forward
"Nobody's happy. It's frustrating. You don't want to get beat. You don't want to be embarrassed, especially at home in front of your fans."
The Royals' troubles have come both at the plate and on the mound. Their 59 runs scored rank second to last in the AL, and their 5.46 team ERA is the league's worst
Kansas City shortstop Bobby Witt Jr., however, believes the offense will come around soon.
"You feel it coming," said Witt, who homered on Wednesday in the Royals' 12-3 loss to the Texas Rangers. "It's like the night before Christmas, where you're waiting and waiting and waiting. Hopefully it clicks at one point. That's why we're going to keep going.
"It's more so mentally than anything, just finding some confidence in there. "It's not fun to lose. ... It's not fun to be (in) last place."
--Field Level Media