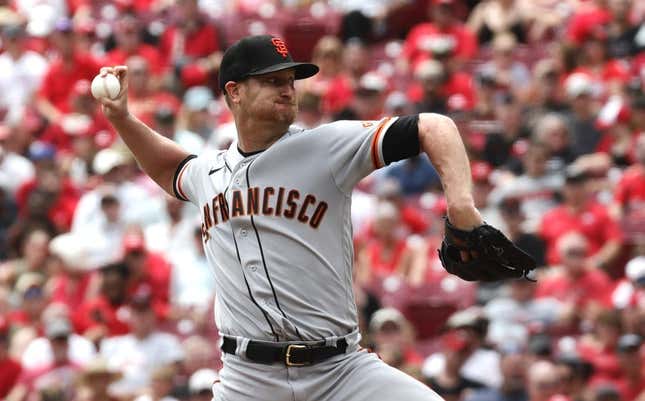 The standings favor the San Francisco Giants but the schedule gives the edge to the Oakland Athletics when the Bay Area rivals duel Tuesday night on the Giants' side of the water in the opener of a two-game interleague series
How running an NFL team is like running a restaurant | Chef Emeril Lagasse
Giants right-hander Alex Cobb (6-3, 3.15 ERA) and A's lefty Ken Waldichuk (2-6, 6.75) are scheduled to start on the mound when the clubs begin the first in a pair of two-game series over a 13-day span. The teams will square off again Aug. 5-6 in Oakland
The Giants found themselves in Detroit on Monday for a makeup game that couldn't have come at a worse time. Not only had they already played 10 straight days in Pittsburgh, Cincinnati and Washington, but when they lost 6-1 against the Nationals on Sunday, it was their fifth straight defeat. Their bats, having produced eight runs in those five games, appeared fatigued
Somewhat predictably, the Giants then went out and put up just one run and four hits on the Tigers in a 5-1 defeat that resulted in a long flight home. They arrived home in San Francisco, on what supposed to be an off day, less than 24 hours before first pitch against the A's
"Obviously we haven't played good enough baseball to win. The last (six) games haven't been up to par for us," Giants manager Gabe Kapler said before heading to the airport. "We're a better team than this and we know it. We've got to get home and turn the page quickly and get ready for Oakland.
Fortunately for the Giants, their first opponent on a nine-game homestand is the A's, who not only have the fewest wins in baseball (28) but also the highest team ERA (5.89)
Cobb allowed five runs -- the most he had given up in a game since May -- in a 5-1 loss at Cincinnati on Thursday in his most recent start. The 35-year-old is 5-3 with a 1.96 ERA in 11 career starts. Oakland.
He will be facing a team that played competitively against three playoff hopefuls in a just-completed, 10-game homestand. The A's went just 3-7, but three of the losses were by one run and two others were by two runs.
Waldichuk, a 25-year-old who attended Saint Mary's College on Oakland's side of the bay, has never faced the Giants in his two-year, big-league career. He started a 6-5 home win over the Boston Red Sox on Wednesday, allowing four runs in 4 1/3 innings
The Tuesday game will mark a welcome-to-the-rivalry not only for Waldichuk but also for Oakland rookies Cody Thomas, Zack Gelof and Tyler Soderstrom.
Thomas enters the series on a five-game hitting streak. Gelof has hit in seven of nine since his major league debut on July 14, and Soderstrom collected his first big-league RBI on Sunday in the Athletics' 3-2 loss to the Houston Astros
Soderstrom is the son of former Giants first-round draft pick Steve Soderstrom, a right-handed pitcher who was a regular at Oakland's homestand. The elder Soderstrom, likely will make the short trip across the San Francisco-Oakland Bay Bridge to be among his old fans in San Francisco
Steve Soderstrom went 2-0 with a 5.27 ERA in three starts for the 1996 Giants, his only major league action
"I want to say it's natural, but I worked hard growing up, countless hours and days spent in the cage with my dad," Tyler said of his dad's role in his development. "I want to say it's a little bit of natural, and also a lot of hard work was put into it as well."
--Field Level Media