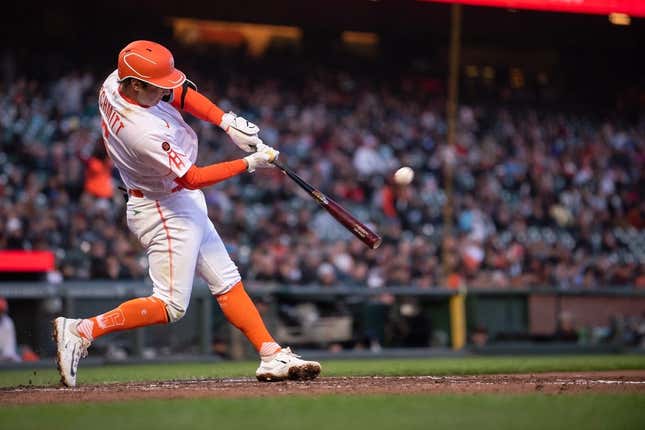 Even with Giants three-time All-Star Brandon Crawford on the injured list, the Washington Nationals would be wise to fear the San Francisco shortstop when the clubs conclude a three-game series on Wednesday afternoon
Aaron Rodgers should go full Joe Namath | Comedian Bert Kreischer
On a night when the Giants' hottest hitter, Thairo Estrada, moved over from shortstop to second base, the Nationals fell victim to a historic major league debut by Casey Schmitt in San Francisco's 4-1 win on Tuesday
When the Schmitt, 24, took Patrick Corbin over the center field fence in his second big-league at-bat, Schmitt became the young Giant to homer in his first major league game since Will Clark famously did it as a 22-year-old against Nolan Ryan 37 years ago.
"I love Will. He's a legend," Schmitt said afterward. "It's surreal. It was amazing. Everything I could have hoped for."
The Nationals nearly caught a break when the Giants had a tough time tracking down Schmitt to give him the big news on Monday. Turns out his Triple-A Sacramento team had the day off, so he silenced his phone while watching "Guardians of the Galaxy Vol. 3" at the theater
"I missed the first call," he said with a chuckle. "Then our manager called like five minutes later. It was during ending credits, so I went out and answered it."
If Schmitt, who went 2-for-4 in his debut, gets the starting nod again Wednesday, it would be against Josiah Gray (2-5, 3.03 ERA). The Nationals right-hander has faced the Giants twice in his career, striking out 10 in 10 innings
Three of those strikeouts came in a six-inning start in San Francisco last May in which the former Los Angeles Dodgers prospect shut out the Giants on one hit in an 11-5 win. He benefited from a five-run first inning, just as Jake Irvin did on Monday in Washington's 5-1 win in the series opener
Gray, 25, is 1-0 against San Francisco with a 3.60 ERA.
The Giants will counter with left-hander Sean Manaea (1-1, 7.33 ERA), who like Gray has had a brief but successful history against his opponent
Pitching for the San Diego Padres, Manaea performed well against the Nationals in their only previous meeting, allowing one run in seven innings in a 2-1 home win last August
The 31-year-old veteran will be making his sixth start of the season. He recorded his first win of the year on Friday against the Milwaukee Brewers, allowing four runs (three earned) in five innings during a 6-4 victory.
While runs have been hard to come by in the first two games of the series, hits haven't been. The Nationals have had 21 in the two games, but just two have gone for extra bases -- doubles by Alex Call on Monday and Joey Meneses on Tuesday
"We had traffic all day. We couldn't get that big hit," Nationals manager Davey Martinez said after the Tuesday loss. "(Giants starter Logan) Webb is a good pitcher. He got tough. When guys were on base, he threw some really good changeups. We were hoping to get some pitches up, but he kept the ball down.
--Field Level Media