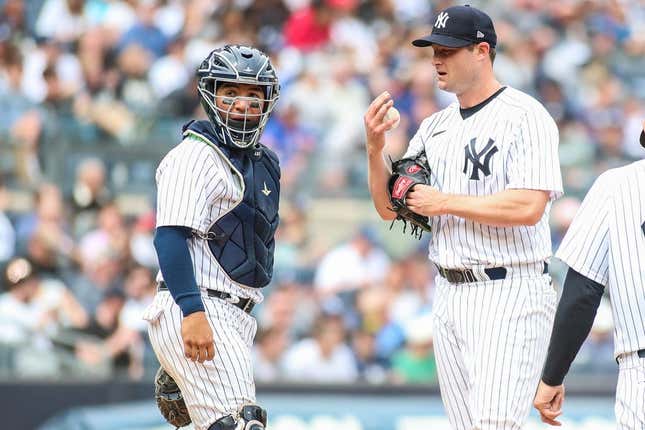 The New York Yankees returned home Monday and were two outs from a much-needed shutout win
Chris Paul should ride the bench next season | Keep it a Buck(et)
Instead, they took perhaps their worst loss of a frustrating few weeks, 3-2 to the Cleveland Guardians, and can only hope that Gerrit Cole helps them rebound Tuesday night in the second game of the three-game series
New York is on a season-high, four-game losing streak, having scored just six runs in that span. The Yankees have also scored two runs or fewer in seven of their past nine games. Their offense on Monday consisted of a homer by Jose Trevino and DJ LeMahieu's RBI single, both in the third inning
Those hits seemingly were enough as Domingo German took a one-hitter into the ninth. However, after allowing a one-out hit to Steven Kwan, he was pulled. Cleveland stormed back, tying the game on Josh Naylor's two-run single off Clay Holmes and moving in front on Mike Zunino's bases-loaded walk against Wandy Peralta.
"There's going to be tough losses, great wins," Yankees manager Aaron Boone said. "The fact we don't finish it off, ... that's a difficult one, but we got to turn the page and get ready for (Tuesday).
Cole (5-0, 1.11 ERA) appears a good candidate to get it done. He enters with the second-lowest ERA of a Yankees starter through his first six starts in a season since 1959. Also, he has not allowed a homer in his first 40 2/3 innings after giving up a league-leading 33 homers last season. He struck out a major-league-high 257 in 2022
Cole last pitched Thursday in a 4-2 win at Texas, when he allowed two runs on six hits in 6 2/3 innings. He recorded eight strikeouts to up his season total to 44.
"(My confidence) comes from my teammates," Cole said. "It just comes from my preparation, and it comes from just being in a good spot to execute a lot of pitches."
Cole pitched in Cleveland on April 11 and allowed two runs on five hits in seven innings during an 11-2 win. He is 6-2 with a 3.08 ERA in nine career regular-season starts against the Guardians
Cleveland hopes to keep the Yankees reeling and build their own momentum. The Guardians are 7-11 in their past 18 games
Jose Ramirez, who contributed to the winning rally with a base hit, is batting .356 in 53 career games against the Yankees, including a .429 mark in 26 career games in New York
"We were doing nothing tonight and they just keep playing," Cleveland manager Terry Francona said Monday night. "It's a good feeling. I know they'll keep playing, and that's a good feeling."
Cleveland rookie Tanner Bibee (1-0, 1.59 ERA) will make his second major league start on Tuesday. The right-hander earned a win on Wednesday when he allowed one run on six hits and struck out eight in 5 2/3 innings against the visiting Colorado Rockies.
Bibee made the solid debut after he posted a 1.76 ERA with 19 strikeouts and eight walks over 15 1/3 innings through three starts for Triple-A Columbus.
--Field Level Media