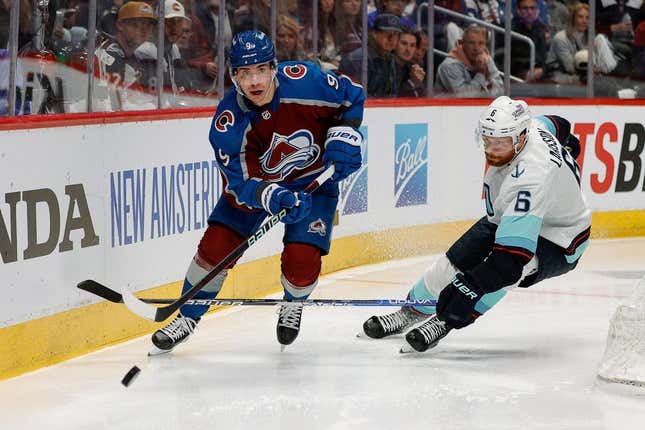 The Colorado Avalanche rolled into the Stanley Cup playoffs having won seven of eight games and on a 16-2-1 run before they kicked off their Western Conference first-round series with the Seattle Kraken
The defending Stanley Cup champion Avalanche have struggled to find that form in the best-of-seven series, which is now 1-1 and resumes Saturday in Seattle
Having rallied from a two-goal deficit in Thursday's 3-2 victory after a horrid opening period, the Avalanche are optimistic the wheel is starting to turn
"I thought that after going through Game 1, we would be sharp and really on it in the first (period)," Colorado coach Jared Bednar said. "We were tight. We played tight. No one wanted the puck. No one wanted to skate with the puck."
The assessment after the comeback victory was much more positive.
"We took a deep breath," forward Evan Rodrigues said. "We have so much talent, and our (defensemen) are so poised with the puck. We were just kind of getting rid of it all the way up the ice ... and I think once we start playing faster, going north, making plays, that's when we have success."
Even so, the Avalanche are not running on all cylinders. Their top forwards, Nathan MacKinnon (one assist) and Mikko Rantanen (one goal), and dynamic defenseman Cale Makar (one assist) have struggled to hit the scoresheet, although the Kraken deserve plenty of credit for keeping them in check
"They work hard. They make it tough for us to break the puck out, tough for us to get in on the forecheck and create room," Avalanche defenseman Devon Toews said. "So it's up to us to get engaged and find that time and space.
As impressive as the Kraken have been, they also have another gear. For starters, Seattle's top four regular-season point producers -- Jared McCann, Vince Dunn, Jordan Eberle and Matty Beniers -- have all failed to register a single point through two games
"We're going to be a big part of this series," Eberle vowed. "We're gonna have to find the scoresheet."
There are not many other issues of concern, though. The Kraken reached the playoffs in only their second year of existence by being a true team, with production and contributions from top to bottom
The Kraken also won two of three regular-season meetings with Colorado. Their game plan has been effective, and now they own home-ice advantage with three of the next four games slated for the Pacific Northwest
"We didn't learn a whole lot new about our team," coach Dave Hakstol said. "We know what our team is. We know who we are. We're pretty comfortable with that. We came in (to Denver) and got one. We had to do that."
The Kraken, who have opened the scoring early in both contests, are also aware of who the Avalanche are -- and are bracing for what the champions can do when they start clicking
"They've been in this situation before," forward Yanni Gourde said. "We knew they were gonna push and for part of the second period we didn't really have a response.
"We've just got to manage the game a little better, slow the game down a bit. We know what to do, go back to our roots and what works for us. When we do that, we are a successful group. We don't have to chase the game. We don't have to change the way we play. It's just going back to what we do."
--Field Level Media