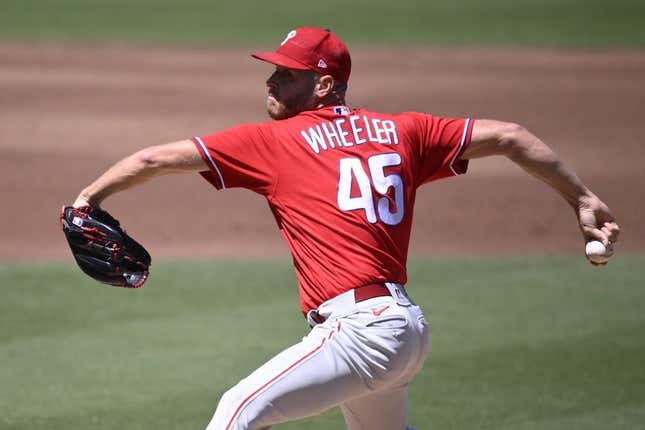 As the Philadelphia Phillies inch toward a potential second consecutive playoff berth, bullpen success will become even more vital.
How running an NFL team is like running a restaurant | Chef Emeril Lagasse
After giving up four runs (three earned) in 4 2/3 innings during the opener of a Monday doubleheader against the visiting Atlanta Braves, the Philadelphia bullpen came up through in a big way in a 7-5 victory during the nightcap.
Jeff Hoffman, Gregory Soto, Matt Strahm and Craig Kimbrel combined to allow two hits and one run in four innings during the win. Soto served up a solo home run to Michael Harris II, and Kimbrel surrendered a single to Nicky Lopez but secured his 23rd save in 26 chances after the Braves won the opener 10-8 in 10 innings.
The Phillies (79-65) will now look for a lead in the four-game series when they host the Braves again on Tuesday.
"Our bullpen is gonna be the difference if we win or lose ballgames," Kimbrel told NBC Sports Philadelphia after the game.
Following the frustrating loss in the opener, the bullpen was a major reason why the Phillies came up with a split.
"It always feels good to come back and take the second game," Kimbrel said. "We've been playing great ball, and it feels great to do so."
Edmundo Sosa doubled, singled and knocked in two runs for Philadelphia in the second contest, and Brandon Marsh added a solo homer.
"Our guys don't quit," Phillies manager Rob Thomson said. "They just keep competing."
Philadelphia will hand the ball to right-hander Zack Wheeler (11-6, 3.49 ERA) on Tuesday.
In his latest start, Wheeler tossed six scoreless innings and gave up just one hit against the San Diego Padres on Wednesday.
"He's throwing the ball great," Thomson said. "You keep that lineup to three hits in a game, you're doing some pitching."
Wheeler is 11-7 with a 3.00 ERA in 25 career starts against the Braves. He produced his best start of the season in a win at Atlanta on May 27, when he struck out a season-best 12 and didn't allow a run over a season-high eight innings.
The Braves would clinch a sixth straight National League East title if they win the final two games of the series.
Despite the loss in the second game of the doubleheader, Atlanta (94-50) got two home runs from Matt Olson — raising his major-league-leading total to 50 and moving him within one of Andruw Jones' single-season franchise record.
"It's pretty cool, especially because it was someone I watched and admired growing up," Olson told Bally Sports South of Jones pulling for him. "It's neat to have the guys who played before you, for the team you watched every night as a child, root for you."
Braves manager Brian Snitker continues to be amazed by Olson's season-long offensive surge.
"It's awesome," he said. "What an unbelievable year he's had. He's gonna probably set organizational records. Happy for him. He's putting together a great year. Couldn't happen to a better person."
Left-hander Max Fried (7-1, 2.70 ERA) is scheduled to start for the Braves on Tuesday.
In Fried's latest outing, on Thursday against the St. Louis Cardinals, he gave up six hits and three runs in six innings. It wasn't one of Fried's best outings but was nonetheless a quality start.
"I was a little surprised after the first two innings (that) I got through six," Fried said after giving up all three of the runs he yielded in the second inning. "It is never ideal when your offense gives you a 3-0 lead to give it right back."
In seven starts since returning from the injured list after missing three months due to a strained left forearm, Fried is 5-0 with a 3.10 ERA.
Fried is 4-4 with a 3.74 ERA in 18 career games (12 starts) against the Phillies.
—Field Level Media