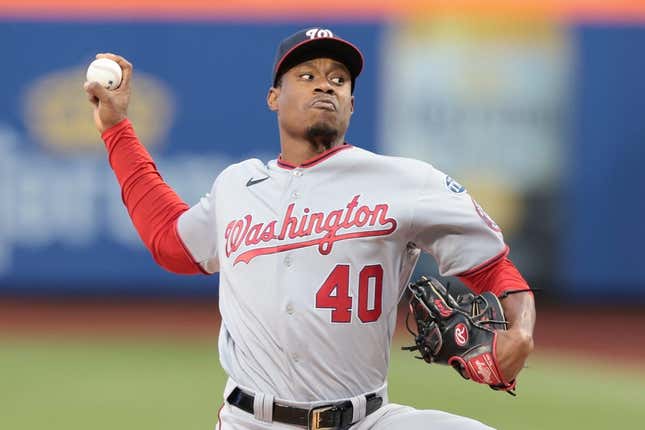 The Pittsburgh Pirates look to continue their best start in more than three decades when they try to sweep a three-game series from the host Washington Nationals on Sunday
Are the Oakland A's a failed state? | Agree to Disagree
The Pirates improved to a National League-best 20-8 after sweeping a doubleheader on Saturday, starting with a 6-3 win and then a 16-1 laugher in the nightcap
Pittsburgh, which has won 11 of its past 12 games, is off to its best start since going 21-8 in 1992 en route to claiming its last division title. The Nationals have dropped three straight games and are an NL-worst 2-11 at home this season
"It's the consistency of how everyone is bringing that intensity every single day and understanding that we are boxers in a ring," said Pirates pitcher Rich Hill, who won the first game. "You have to go out there and continue to keep fighting. That's one of the best analogies that I can come up with. When that bell rings, it's time to go. We get in between the lines and we're the aggressor.
Jack Suwinski went 3-for-6 with his first career grand slam, a run-scoring double and a career-high five RBIs in the nightcap, while Carlos Santana went 3-for-4 with three RBIs and two runs for the Pirates. Bryan Reynolds, Jason Delay and Ke'Bryan Hayes each had two hits and three runs for Pittsburgh
The Pirates received a boost from right fielder Miguel Andujar, who went 2-for-3 with a two-run home run and three RBIs in his season debut in the first game before blasting a three-run shot as a pinch hitter in the nightcap
Andujar, who was claimed off waivers from the Yankees last September, earned his call up this weekend after hitting .284 with three homers and 15 RBIs in 23 games for Triple-A Indianapolis.
The Pirates will turn to right-hander Johan Oviedo (2-1, 3.03 ERA) to try to complete the sweep
In his last start, Oviedo allowed five runs -- four earned -- on six hits with four strikeouts and two walks in 5 1/3 innings of an 8-7 loss to the visiting Los Angeles Dodgers last Tuesday.
Oviedo has faced the Nationals just once in his career, pitching a scoreless inning in relief as a member of the St. Louis Cardinals in a 7-6 loss last season
The Nationals will counter with right-hander Josiah Gray (1-4, 2.93), who is coming off his best start of the season in a 5-0 win over the host New York Mets on Tuesday
He pitched six shutout innings during which he allowed just four hits to go along with nine strikeouts and a walk get the win.
Gray has been dominant in his past four starts, allowing just four runs on 20 hits with 21 strikeouts and eight walks over 22 2/3 innings.
Gray has pitched against the Pirates just once in his career, allowing five runs on three hits with four strikeouts and six walks in a 10-7 loss in September 2021
"We need to put today behind us and go from there," Washington manager Dave Martinez said. "Hopefully, Josiah gives a lengthy start. Today was not a good day for us."
--Field Level Media