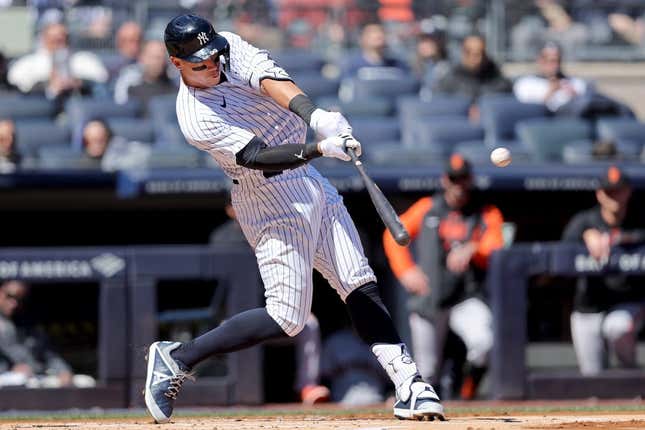 Speaking in the dugout about two hours before the first pitch of the new season was thrown, San Francisco Giants manager Gabe Kapler conceded Aaron Judge was likely to do damage against his team
It took two pitches for Judge to hit his first homer of the new season to spark the New York Yankees to a 5-0 victory over the Giants on Opening Day
Judge and the Yankees look to clinch their first series win of the season Saturday when they host the Giants, who were unsuccessful in their offseason pursuit of the star
Judge and the Giants were expected to be linked this past winter. Judge has strong ties to Central California as he grew up in the region and later starred at Fresno State. He was a fan of the club and the Giants made an aggressive pursuit of the power hitter before the Yankees re-signed him to a nine-year, $360 million deal in December
"Right now, Aaron Judge is on the Yankees," Kapler said Thursday. "Our goal is to get him out as many times as we possibly can. He's a great player. It's likely that he does something good in the series and probably has a great season for the Yankees. It's our job to get him out.
After hitting 62 homers last season to break the American League single-season record held since 1961 by Roger Maris, Judge connected on a sinker Thursday from San Francisco's Logan Webb. He also added an RBI single to cap the scoring as New York went on to its first Opening Day shutout since 1988.
"I was pretty vocal about that from the beginning and then you got to go through the free-agency process," Judge said. "But all in all this is where I wanted to be and I'm happy I'm here and it's tough to think about being anywhere else."
Judge's homer came on a day when the Yankees struck out 12 times against Webb, and 16 times on the day, but did enough thanks to Gerrit Cole fanning 11 in six dominant innings
"It was a tone-setter for us," Cole said. "He came up and woke everybody up and showed us that he was here to play."
Former Yankee infielder Thairo Estrada had two of San Francisco's four hits and will try to help the the Giants to avoid losing their first two games for the third time in five seasons
Like the Yankees, the Giants also struck out 16 times after left-handed hitters Michael Conforto, Joc Pederson and Mike Yastrzemski combined for seven of them
After Cole's dominant outing, right-hander Clarke Schmidt takes the mound for the Yankees in the spot originally projected for former Giants lefty Carlos Rodon, who is recovering from a forearm injury
Schmidt was 5-5 with a 3.12 ERA in 29 outings (three starts) with the Yankees last season. In his three starts, Schmidt was 0-2 with a 4.63 ERA
Right-hander Alex Cobb takes the mound for the Giants to stary his second season with the club. Last year, Cobb was 7-8 with a 3.73 ERA in 28 starts, his most since 2018 with Baltimore, allowing two runs or fewer 14 times
Cobb has plenty of experience against the Yankees from his time with the Tampa Bay Rays and Baltimore. In 18 career starts against New York, Cobb is 7-5 with a 3.21 ERA
--Field Level Media