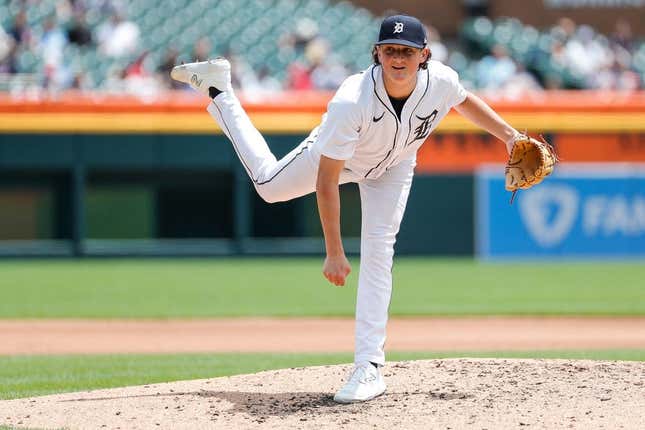 The Tigers will return to Detroit feeling a lot better about themselves than when they left
Is Texas or Florida State a bigger national title contender? | Agree to Disagree
Detroit opens a three-game home series against the Kansas City Royals on Monday after taking three of four on the road from the American League Central-leading Minnesota Twins. The Tigers had lost 11 of their previous 12 games
It didn't come easy. Detroit manager A.J. Hinch had to use two "bullpen games" due to injuries to his starting staff. The Tigers completed their strong weekend with a 6-4 win on Sunday, which included homers from Spencer Torkelson and Kerry Carpenter
"We taxed our guys. The 'pen threw a lot of innings," Hinch said. "We had some big performances out of the two starters that pitched in this series (Matthew Boyd, Joey Wentz) and we were in position to win four out of four. We won three out of four."
The Tigers will see the Twins again very soon. They will host Minnesota in a three-game series this weekend after completing the series with the Royals
"This is not an easy place to play," Hinch said of Minneapolis. "We have not played well every time we've come here. It is good to stand up for yourself. We're playing better and our offense has been perking up."
Kansas City has lost 14 of its last 16 games after the Los Angeles Angels defeated it 5-2 on Sunday. The Tigers won twice in a three-game series at Kansas City last month
It's been a rough season for the Royals, and right-hander Jordan Lyles, Monday's expected starter, epitomizes those struggles. Lyles has an 0-11 record and a 6.89 ERA
He's been charged with the loss in six of his past seven outings, including his last start on Tuesday. Lyles, who has made 14 starts, gave up five runs and five hits in six innings against Cincinnati.
Lyles tied a career high with 12 victories last season with Baltimore.
"No one likes losing," Lyles said. "I will say from my perspective, individual loss means a loss as a team. We've been losing a lot when I've been out there. Majority of that is on my shoulders. A lot of it is. But when it's game time, there's not one thought of that. I couldn't tell you what my numbers are. I'm trying to go as deep as I can and come out of the game with the lead."
The last pitcher to lose his first 11 decisions was Anthony Young of the 1993 New York Mets, who began the season 0-12 as a starter and reliever. The last pitcher to lose his first 11 decisions as a starting pitcher was Kyle Abbott of the 1992 Philadelphia Phillies. He finished that season 1-14.
Lyles is 1-2 with a 3.45 ERA in five career appearances (four starts) against Detroit.
Rookie Reese Olson (0-2, 6.08 ERA) is expected to start for the Tigers. Olson was battered for seven runs (six earned) in 3 1/3 innings against Atlanta on Wednesday
Olson gave up a total of three runs in 10 innings during his first two starts.
"I didn't try to approach the game any differently than my first two (starts)," Olson said after his last outing. "It just wasn't my day."
--Field Level Media