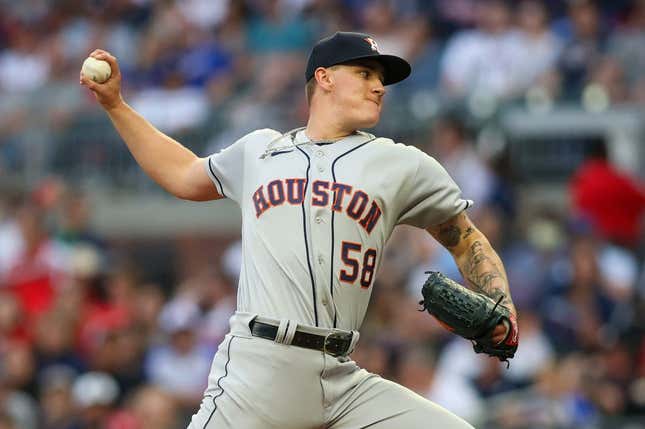 Houston pitcher Hunter Brown is facing quite a challenging task Wednesday night: Stop the hottest team in baseball for the second straight game.
Does Jimmy Butler have the best NBA Finals origin story? | Agree to Disagree
With his teammates having split the first two matchups in a three-game series against the Tampa Bay Rays in St. Petersburg, Fla., the right-handed Brown will climb the hill for his fifth start and look to clinch a third straight series win for the Astros
The Rays will likely counter with a committee approach, as they are expected to go with Calvin Faucher as an opener
On Tuesday, Houston won 5-0 as starter Luis Garcia and three relievers combined on a five-hit shutout to cool off the Rays, who had won a modern-era record 14 straight home games to open the season
Five of the Astros' 11 hits were doubles, including two by Mauricio Dubron as he moved his hitting streak to 19 games -- the longest active streak in the majors
Brown, 24, sports a 2-0 record with a 3.09 ERA across four outings -- earning victories in Minnesota and at home against Texas.
His journey through his first opening month of a season -- his major league debut was last Sept. 5 -- has been filled with the inconsistency that a skipper might expect of a 24-year-old hurler who broke camp with his first big-league squad just weeks ago.
However, the Wayne State University product displayed the promise that has him emerging as a reliable arm for manager Dusty Baker and pitching coach Josh Miller over the long campaign.
In the two wins, Brown tossed 14 innings and allowed seven hits and no earned runs. He struck out 12 while issuing three walks.
"He's pitching with a lot of determination and a lot of fire," Baker said after Brown and the Astros beat Texas 8-2 on April 15
In two career relief stints against Tampa Bay, Brown threw four scoreless innings with five strikeouts, three hits and a walk.
The Rays failed to homer for the second consecutive night after going yard in the first 22 games of the season. Moreover, they had no answer for the off-speed offerings of Garcia, who is now 3-1 against them in four career starts
"It was a little weird walking in (to the clubhouse) right there with no music or anything like that," Rays manager Kevin Cash said after the loss, "but I'm guessing they'll get the music back on soon.
On Tuesday morning, the Rays reinstated former Houston center fielder Jose Siri from the 10-day injured list. He went 0-for-2 with a walk in the defeat
In a corresponding move, the organization optioned starting pitcher and top prospect Taj Bradley -- 3-0 in his first three career starts this season and winner of Monday's series opener -- to Triple-A Durham.
The club also added right-handed reliever Heath Hembree to the roster and sent infielder Vidal Brujan down to Durham.
All of the movement leaves the Rays in need of a starting pitcher Wednesday, and Faucher is no stranger to opening games. After coming out of the bullpen in the first 26 games to open his career (including his first four appearances this season), the 27-year-old righty has served as the opener in each of his last two outings
The Rays are 1-1 in those games, with Faucher going 2 2/3 innings in a 5-2 loss at Toronto on April 15 and then going two innings to open an 8-7 home win over the Chicago White Sox on Friday
On the season, Faucher is has no record and a 5.91 ERA in six appearances. He has nine strikeouts and two walks over 10 2/3 innings. Faucher has yet to face Houston in his career.
--Field Level Media