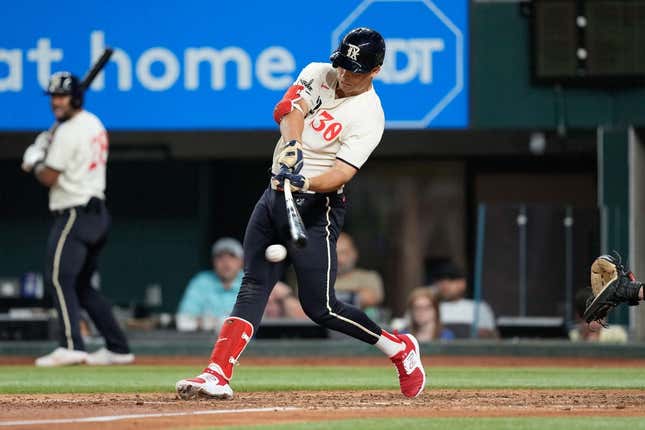 Even on their home field against the team with one of the worst records in the majors, the Texas Rangers can't afford to take wins for granted the rest of the season.
How running an NFL team is like running a restaurant | Chef Emeril Lagasse
Hoping to pull closer to reclaiming a playoff spot, the Rangers will next focus on winning the rubber game of their three-game series against the visiting Oakland Athletics on Sunday in Arlington, Texas.
Texas lost its grip on first place in the AL West late last month after leading the division since the second game of the season.
The Rangers ended a four-game skid with a 3-2 win against the A's on Saturday night to pull back within 1 1/2 games of a wild-card spot, but they can't let up heading into the series finale.
"It's no secret, we haven't played as well as we've wanted to, but we've got to do what we can to come out and be positive," Rangers first baseman Nathaniel Lowe said. "We've got a great environment to play in, we've got great fans and a great field and we've got it right in front of us, so we might as well take it and keep going here."
Texas continues to scrape for offense, however.
The Rangers have been limited to three runs or fewer in the past four games and needed a wild pitch to score their go-ahead run in the seventh inning on Saturday.
Rangers manager Bruce Bochy liked some of the competitive approaches at the plate on Saturday, namely the three walks by Robbie Grossman that led to two runs, and he thought there were plenty of hard hit outs as well.
"You keep creating those chances out there and good things will happen," Bochy said. "We're doing that."
The Rangers lifted starter Nathan Eovaldi after 2 1/3 innings on Saturday and four relievers went the rest of the way, so Texas could use a longer-than-usual outing from Jon Gray in his 26th start of the season on Sunday.
Gray (8-7, 3.85 ERA) won his eighth game of the season on Aug. 11, putting the veteran right-hander on pace to surpass his career high in wins (12), but he's 0-2 in four starts since with a 4.91 ERA.
Gray is 2-1 in five career starts against Oakland with a 4.08 ERA.
The A's are also hoping to get at least five innings from Luis Medina (3-8, 5.46), something the rookie right-hander accomplished in six straight outings in late June through July.
He came up an out short in his most recent appearance last Monday, allowing three runs and three hits in a 6-5 loss to the Toronto Blue Jays in 4 2/3 innings. He didn't figure in the decision in the 10-inning, 6-5 loss.
Medina faced Texas on May 11 and went six innings, allowing three runs and five hits in the 4-0 loss in Oakland.
Even with their past success against Medina, the Rangers won't be looking ahead to their four-game series that begins Monday in Toronto, one of the teams Texas is chasing for a wild card.
"It doesn't matter who we're playing against, and regardless of the numbers, the guys over there have good stuff," Lowe said. "We've got to lock in and continue to do the little things right and ideally that's what we want to do to get the ball rolling down the stretch."
Despite being out of the playoff race for some time, Oakland isn't lying down.
"We know what is in front of us," A's manager Mark Kotsay said earlier in the series. "We want to send a message and prepare ourselves going forward for the season in front of us by running through the finish line and playing good baseball against our division opponents."
—Field Level Media