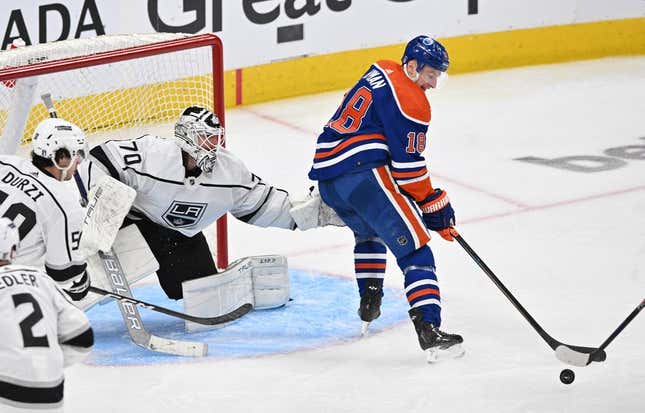 Excuse the Edmonton Oilers and Los Angeles Kings for feeling a case of deja vu heading into Game 2 of their Stanley Cup playoff series on Wednesday in Edmonton
Bass' ERA stinks, but not compared to who he is off the mound | Worst of the Week Countdown
The Kings are coming off a thrilling 4-3 overtime victory in the opener of their Western Conference first-round meeting. Last year, the clubs also met in the opening round, and the Kings won Game 1 by the same score
"The past doesn't predict the future," said Oilers captain Connor McDavid, who was held off the scoresheet on Monday. "I liked what we did last year in Game 2, I thought we've played well in Game 2s historically, but I don't think that means a whole lot come puck drop on Wednesday. It's a big one for us and I would like to see some urgency.
Last year, the Oilers responded from losing Game 1 at home by claiming a pair of lopsided victories, 6-0 and 8-2, and won the best-of-seven series that went the distance
The Oilers appeared in control of Monday's game when they held a 3-1 lead past the midway point of the third period. Then a pair of late Los Angeles goals, including Anze Kopitar's tally with 16.7 seconds remaining in regulation, forced overtime, and Alex Iafallo became the hero with the winner
"In the moment, it's frustrating. ... The nice thing about playoff hockey is you can get right back at it," Oilers forward Zach Hyman said. "You've got to be able to temper emotions.
Edmonton goaltender Stuart Skinner, who called his NHL playoff debut "average," said it was actually a positive lesson for him to experience the disappointment of a loss but awake the next morning and realize it is in the past.
"It's a good thing that I was able to go through that, because now I am a better man for it," Skinner said.
The Kings know full well they will see a better Oilers team, but they can take solace in how they improved as the opener continued. Edmonton staked a 2-0 first-period lead, but the Kings gained momentum
"We were very resilient, everyone gave it their all, huge blocks from the forwards and defense, and (goalie Joonas Korpisalo) made some huge saves," Iafallo said. "We talked about being resilient all year and coming back was good for us."
It helped to score a couple of power-play goals, when Edmonton's vaunted attack on the man advantage was such big part of the discussion.
"Throughout the season, yes we had a good power play, the percentage shows that, but I feel like it was more timely goals versus just relying on the power play," said Kopitar, who set a career playoff high with four points on Monday.
As well as his team contained McDavid in the series opener, Kings coach Todd McLellan was quick to point out the Edmonton captain drew two penalties that led to the five-on-three power play the Oilers converted. Plus, Leon Draisaitl's pair of goals proves Edmonton's big guns were not kept in check fully
"You're not going to stop them, but the fact that we played hard, we got production from different areas, different situations, I think it was important," McLellan said. "The lesson we learned last year, that we weren't prepared for, is the level of play is going up immensely in Game 2."
The Kings also received a boost on Tuesday. Injured forward Gabriel Vilardi took part in practice. Vilardi missed the final nine regular-season games as well as the series opener and professed himself ready to play
--Field Level Media