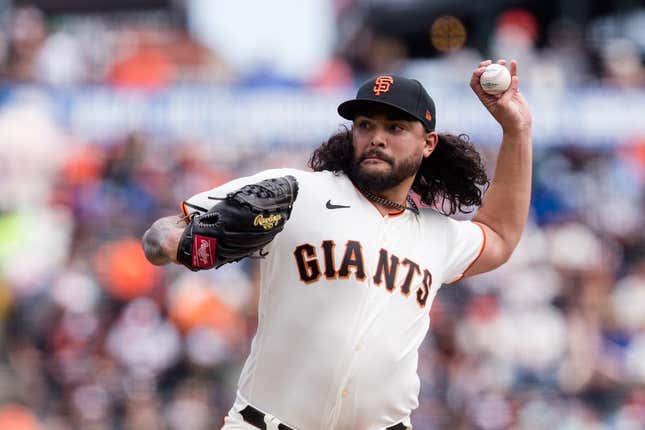 The San Francisco Giants haven't been able to pair up victories this month. They will try to break that trend during a six-game road trip that begins in Detroit on Friday
'Soccer fandom is full of gatekeepers' says Ted Lasso actor Brendan Hunt
All of the Giants' five wins this season have been followed by losses. That's what happened immediately before the trip, as San Francisco shut out the Los Angeles Dodgers 5-0 on Tuesday, then lost 10-5 on Wednesday in the series finale
"It's disappointing, obviously," Giants outfielder Michael Conforto said. "I think better baseball is around the corner. We've shown flashes of our offense being very potent, very stingy with the strike zone. ... I think there are flashes of what this team can really be. But we've got to start playing a little better all-around baseball.
San Francisco got off to a 3-0 lead on Wednesday, but the bullpen couldn't hold it. The biggest culprit was Taylor Rogers, who walked all four batters he faced and was charged with four runs.
"These ones are ones you don't figure out 'til the next day," Rogers said. "You don't ever sleep, so you're alone with your thoughts all night, and that's kind of when you try to pinpoint what you need to do."
The Giants have displayed some power through the first 12 games, blasting 21 homers, with eight players supplying at least two long balls. Conforto and David Villar lead the way with three apiece
First baseman Darin Ruf could give them another power boost. The 36-year-old veteran was promoted from Triple-A Sacramento on Wednesday and delivered two hits. He is expected to start regularly against left-handers.
"Obviously the feel-good moment of the night for our side," manager Gabe Kapler said of Ruf's season debut. "He's had a tough go up until (Wednesday). I think there were feelings of relief from him. I think people were really happy for him."
Ruf could be in the lineup on Friday, as the Tigers are expected to start left-hander Joey Wentz. It has been a rough beginning for Wentz (0-2, 10.29 ERA), who was charged with five runs in 1 2/3 innings against the Boston Red Sox on Saturday. Wentz walked four batters during his short stint
He was in jeopardy of losing his starting spot, but Matt Manning broke a bone in his right foot this week, giving Wentz a reprieve.
Sean Manaea (0-0, 4.50 ERA) is the Giants' scheduled starter. He is coming off a sharp performance on Saturday, when he held the Kansas City Royals to one run and three hits in six innings while recording eight strikeouts and one walk
The Tigers snapped a six-game losing streak on Thursday with a 3-1 road win over the Toronto Blue Jays, but it didn't go smoothly
Detroit shortstop Javier Baez was benched after he committed a baserunning gaffe. Not realizing there was only one out while he was on second base after a double, he took off running on Akil Baddoo's flyout and was easily doubled off.
"It's not even really all about Javy," manager A.J. Hinch said pulling the player out midgame. "If you've watched the last couple of series, we've made a number of mental mistakes. One thing we can control is our preparedness and readiness. Javy happened to be the one that made the big mistake where I made the move. It's a message to our whole team that we've got to clean that up."
Hinch added that Baez would be in the lineup on Friday.
--Field Level Media