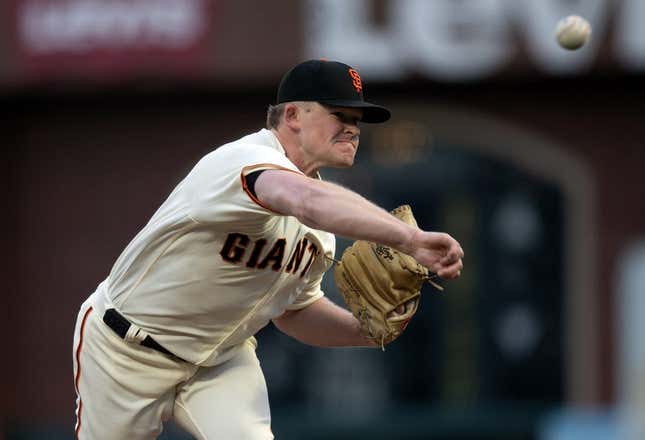 Logan Webb received some long-term security this weekend. Now, he'll aim for his first win of the season when the San Francisco Giants close out a three-game series with the host Detroit Tigers on Sunday afternoon
Webb agreed to a five-year, $90 million extension on Friday that will begin next year.
"It was just important for me to be able to say I can wear a Giants uniform for a long time," Webb said. "It's important for not only myself, but my family. ... I know they're very excited. There's a lot of diehard Giants fans in Rocklin, California (his hometown). This is where I want to be. It's an honor.
Webb, 26, was one of the majors' most consistent pitchers last season. He had a 15-9 record and 2.90 ERA in 32 starts.
San Francisco has lost all three games that Webb (0-3, 4.76 ERA) has pitched this season. He gave up four runs (one earned) in six innings in his last outing against the Los Angeles Dodgers.
Control hasn't been an issue in those three outings -- he's walked three and struck out 22 -- but that provides no comfort to Webb.
"I am super frustrated with how my season has started," he said. "I think there have been a lot of good positives that come out of some of the things that we're trying to accomplish. I've got to be a lot better. I think the team knows that. I know that.
"I'm excited to start showing that. I think I'm really close. It does show that they do have a lot of faith in me and they know that some of the stuff that's happened in the first couple of games is not going to happen, hopefully, very often."
Webb had a bizarre outing in Detroit last August. The Tigers scored six unearned runs in the fifth inning, with a two-out error by shortstop Brandon Crawford opening the floodgates. That was Webb's only career appearance against Detroit
Matthew Boyd (0-1, 4.00) will oppose Webb. Boyd gave up two runs in 4 2/3 innings against Boston last Sunday. Control has been a problem for Boyd, as he's walked seven batters in nine innings.
"It could've been a lot better," Boyd said after his outing against the Red Sox. "There was a lot of opportunity for me personally to get deeper in that game, to get ahead in counts. I had spurts where I lost the rhythm in my delivery and then I was rolling after that."
The Tigers have won three straight, including back-to-back walk-off victories in the first two games of the series. Nick Maton's three-run homer gave Detroit a 7-5 win on Friday, and pinch hitter Miguel Cabrera's run-scoring single in the 11th inning lifted the Tigers to a 7-6 triumph on Saturday
Cabrera knocked in automatic runner Spencer Torkelson, who had advanced to third on a wild pitch.
"It's pretty exciting," Tigers manager A.J. Hinch said. "Obviously, that's a fun win and another win with a lot of range of emotions. ... We got the runner up on the wild pitch and a lot of us had a ton of confidence he was going to make contact and Miggy finds a way to steal the show.
Detroit shortstop Javy Baez, who was benched on Thursday in Toronto for a mental mistake, has reached base six times in the series. His two-run double in the eighth on Saturday was the key hit as the Tigers rallied from a five-run deficit
--Field Level Media