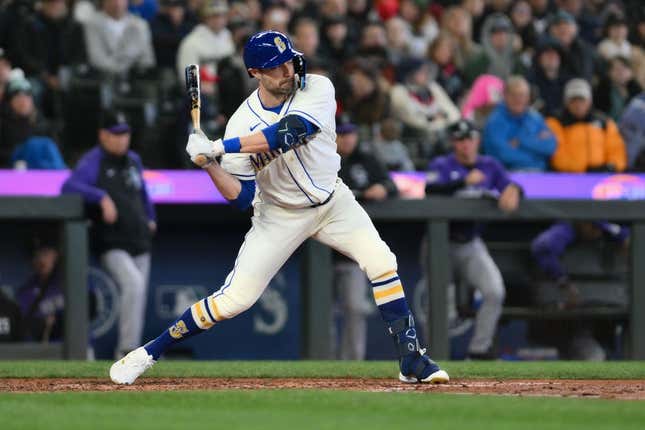 If pitchers still were allowed to hit in interleague games, they couldn't have done much worse than the Seattle Mariners' designated hitters this season
Air Jordans are more American than McDonald's French fries | Deon Cole's Ultimate Sports Fantasy
The six players the Mariners had started in the DH spot entering Friday night's series opener against the visiting St. Louis Cardinals had combined for a .115 batting average with no home runs and one RBI, by far the worst total of any of the 30 major-league teams
But when AJ Pollock stepped to the plate with one out and the bases loaded in the bottom of the sixth inning, he exceeded that with one swing. Pollock lined the first pitch he saw from reliever Drew VerHagen into the gap in right-center field, his two-run double snapping a tie in a game the Mariners won 5-2
The middle game in the teams' three-game series in Seattle will be Saturday night.
"That was a key contribution from that spot in the lineup, where we'd been struggling," Mariners manager Scott Servais said regarding Friday night as his team snapped a three-game skid. "It was a big hit for AJ.
The Mariners have rotated players through the DH spot with little to no success this season. Switch-hitter Cooper Hummel has had the most starts at that position with six. Tommy La Stella has started five games, Pollock four, Teoscar Hernandez three, and catchers Cal Raleigh and Tom Murphy one apiece
"In a perfect world, you'd like your DH to be ... a guy who hit 35 home runs and drove in 110 runs," Servais said. "And those guys, there's not a lot of them running around, and if they do they cost a lot of money."
While the Mariners were obviously thrilled with Pollock's production Friday, it likely didn't come close to what Cardinals outfielder Lars Nootbaar experienced before the game
Nootbaar, who played for Japan's championship team in the World Baseball Classic this spring, got a chance to meet his idol, Ichiro Suzuki, the former Mariners standout who now serves as a special assistant to the chairman of the team
"I was asking him questions, and he was super open and honest," Nootbaar said of the pre-game chat in the outfield with Suzuki. "I just asked him about his WBC experience, and I told him what an honor it was for me to be able to play with Japan. I told him how I didn't want to disappoint (Japan) or a great player like him. I was asking about baseball and hitting, and it was a really surreal moment, to be honest."
Shortly afterward, Nootbaar asked one of the visiting clubhouse attendants at T-Mobile Park to run to the Mariners' team store to buy him a Suzuki jersey. Nootbaar said he plans to get it signed before the Cardinals leave town
"I've got no shame! I've got no shame about something like that," Nootbaar said. "It's Ichiro Suzuki! I'm not going to pass up that opportunity."
On Saturday, the Cardinals plan to send Miles Mikolas (0-1, 8.10 ERA) to the mound to oppose Seattle's Luis Castillo (2-0, 0.73) in a matchup of right-handers
Mikolas, 34, pitched eight scoreless innings to earn a victory in 2014 in his only previous start against the Mariners, while Castillo, 30, is 6-8 with a 4.25 ERA in 18 starts vs. St. Louis
--Field Level Media