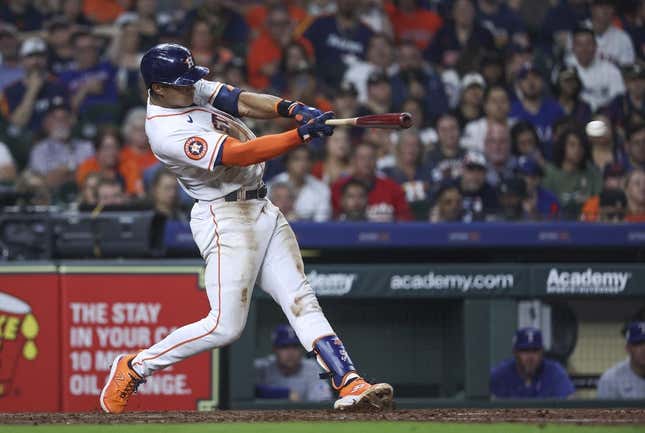 A five-run seventh inning proved vital to the Houston Astros and their effort to square their three-game series with the Texas Rangers at one game apiece on Saturday, and that frame offered a picture of poise heading into Sunday night's rubber match
Does Jimmy Butler have the best NBA Finals origin story? | Agree to Disagree
Seven consecutive batters reached base with one out in the seventh inning of the Astros' 8-2 victory Saturday, and it wasn't until shortstop Jeremy Pena delivered a two-run double that the surge ended. It was Houston's only extra-base hit of the inning
Before Pena capped the scoring, the Astros had compiled two singles, three walks and a ground ball off the bat of Jose Abreu that Rangers shortstop Josh Smith failed to field cleanly, allowing two runners to cross the plate
For a lineup often reliant upon the power provided by Yordan Alvarez and Kyle Tucker in the middle of the order, manufacturing a big inning represented a welcome change of pace.
"I was very pleased," Astros manager Dusty Baker said. "They helped us out, and we had some quality at-bats. That's what it's all about. When you have quality at-bats and swing at strikes, you're going to hit.
Left-hander Framber Valdez (1-1, 1.89 ERA) will start the series finale for the Astros on Sunday. He produced his second consecutive quality start on Monday at Pittsburgh, allowing two runs, three hits, five walks and striking out five over seven innings in an 8-2 Houston win
Valdez is 6-3 with a 2.55 ERA in 13 career appearances (10 starts) against the Rangers. He finished 3-1 with a 1.56 ERA over five starts against Texas last season, including a 4-3 loss on Sept. 6, when he allowed four runs (three earned) on seven hits and four walks with 11 strikeouts over 6 2/3 innings
Left-hander Andrew Heaney (1-1, 8.22) is the scheduled starter for Texas in the rubber match. He earned his first victory of the season in his most recent start, allowing one unearned run on two hits and two walks with 10 strikeouts over five innings in an 11-2 win over the Kansas City Royals on Monday.
Heaney struck out nine consecutive batters from the first through the fourth innings, setting a franchise mark and matching the American League record.
Heaney is 3-4 with a 3.54 ERA over 11 career starts against the Astros. His most recent appearance against them came on May 12, 2021, when he allowed five runs on nine hits -- including three home runs -- with five strikeouts over 5 1/3 innings in a 9-1 loss while with the Los Angeles Angels
After facing a series of challenging ground balls on Friday, Rangers rookie third baseman Josh Jung enjoyed a far more routine night in the field on Saturday. Either way, he performed with aplomb, and since making his debut on Sept. 9, 2022, he appears to have found his footing at the hot corner
"I noticed in spring training from the early part of it how comfortable and how confident he was, not just with the bat but defensively," Rangers manager Bruce Bochy said. "He doesn't hold back, he's not afraid to make mistakes, and that's what I love about him.
--Field Level Media