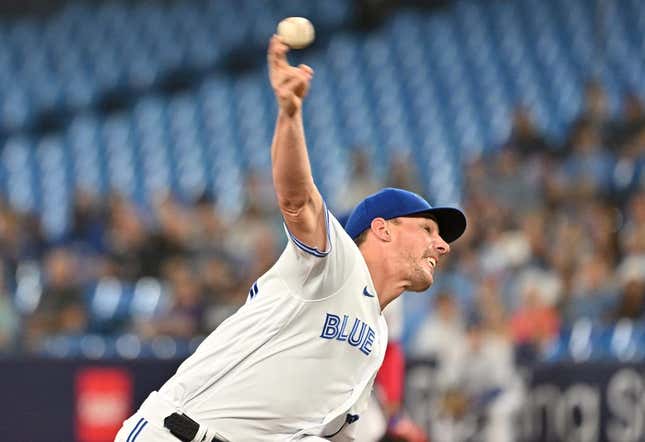 Chris Bassitt is expected to let his catcher call the game against the visiting San Francisco Giants in the rubber match of a three-game series on Thursday
How running an NFL team is like running a restaurant | Chef Emeril Lagasse
The Toronto Blue Jays right-hander usually has called his own game but made the switch on Friday after allowing three runs in the first inning against the Oakland Athletics
He turned the pitch-calling over to catcher Danny Jansen for the rest of the game and feels that is the way it will continue to be.
Bassitt allowed one more run in his five-inning outing and did not factor into the decision in Oakland's 5-4 victory.
"I'm obviously struggling a little bit right now, and less is more," Bassitt said. "I'm not sure if I'm tipping the way I'm sequencing pitches. I'm not sure, really, what's going on right now. It's just a matter of less is more.
"I think it really went well. I think at times I'm thinking too much on the mound rather than competing. It's a funky dynamic."
Bassitt (7-5, 4.32 ERA) is 1-2 with a 5.34 ERA in five career starts against the Giants. San Francisco had yet to name a starter for Thursday
The Blue Jays used a five-run first inning against Logan Webb on Wednesday to defeat the Giants 6-1 and gain a split of the opening two games of the three-game series
The Giants saw their 10-game road winning streak end
"I don't think it was about Logan," San Francisco manager Gabe Kapler said. "I think it was about their hitters. They did a nice job of jumping on his pitches early in counts and getting just enough barrel on it. Some of them were hit hard, and some just found holes. Then he settled in nicely."
Webb wound up lasting five innings and yielding no more runs after the opening frame.
After three scoreless innings by Toronto opener Trevor Richards, Bowden Francis allowed one run in four innings to earn his first major league win.
"(Francis) stayed on the attack is what I liked," Blue Jays manager John Schneider said. "He didn't let any moment get too big. Really, really good job by him. Four innings and he was pretty efficient, too.
Toronto shortstop Bo Bichette had a first-inning RBI single and finished 1-for-4, extending his hitting streak to 13 games, matching his career best. He is 19-for-54 (.352) with nine doubles and five RBIs during the streak.
Former Giants first baseman Brandon Belt had his second double of the series as Toronto's designated hitter in the first inning to drive in a run
"We did what we had to do right there (in the first inning)," Belt said. "Guys like (Webb), if you get on him in the first inning like that, that's more ideal before he gets locked in."
George Springer had three hits for Toronto and LaMonte Wade Jr. had three hits for San Francisco, each out of the leadoff slot.
Giants right fielder Michael Conforto (left hamstring tightness) left the game for pinch hitter Austin Slater in the second inning. Slater homered in the fifth inning
"Not much more to report other than that he went up against the wall, pushed off on a throw and felt a little something," Kapler said of Conforto. "Right now, he's day-to-day, and (we'll) see how he feels in the morning."
Giants catcher Patrick Bailey doubled in the seventh inning to extend his hitting streak to nine games. He is batting .333 (11-for-33) with six RBIs during the streak
--Field Level Media