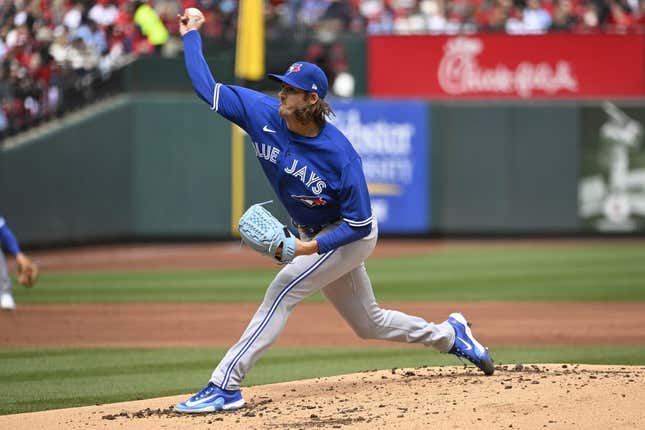 The visiting Toronto Blue Jays will send right-hander Kevin Gausman to the mound on Thursday afternoon as they try to win their four-game series against the Kansas City Royals
Bass' ERA stinks, but not compared to who he is off the mound | Worst of the Week Countdown
After dropping the series opener, the Blue Jays have won two in a row. Three Toronto pitchers held the Royals to two hits in a 3-0 victory on Wednesday night
Gausman (0-1, 0.00 ERA) will oppose Royals right-hander Jordan Lyles (0-1, 1.69)
Gausman took a hard-luck loss against the host St. Louis Cardinals on Saturday, allowing three unearned runs over six innings. An error by third baseman Matt Chapman led to three runs in the third inning of the 4-1 loss.
"It's unfortunate when those things happen, but I know how good Matt Chapman is, plus (shortstop) Bo (Bichette) and everybody," Gausman said. "When anything happens, you've just got to keep making your pitches. That's what they usually say to you, too. 'Hey, get me another ground ball.'"
Blue Jays pitching coach Pete Walker said one of the things that impresses him about Gausman is that "he doesn't get rattled by anything. He just takes things day by day and trusts his stuff. ... His ability level and what he's capable of is exciting to think about if the stars align a little bit. He's certainly one of the best pitchers in the game of baseball.
In two career starts against the Royals, Gausman is 0-1 with a 6.75 ERA
Lyles took the loss to the Minnesota Twins on Saturday despite allowing two runs (one earned), five hits and two walks in 5 1/3 innings. In seven career appearances (six starts) against Toronto, he is 3-2 with a 6.75 ERA.
"His stuff was good and his pace was good," Royals manager Matt Quatraro said afterward. "I thought he had some good curveballs below the bats, and overall, you couldn't ask for much more.
The Royals announced Wednesday that Quatraro has tested positive for COVID-19. Bench coach Paul Hoover will serve as interim manager while Quatraro is away from the team
Quatraro came into contact with the virus from a source outside the team. and called Hoover Wednesday morning to say that he was being tested. Quatraro will be reevaluated early next week.
"I'm just trying to get a handle on today before I even think about any days in the future," Hoover said. "Everything's been fine. Everybody's been communicating well."
Hoover managed at the rookie level in the Tampa Bay Rays organization in 2012. He served as the Rays' roving catching coordinator from 2013-18 before becoming the Rays' major-league field coordinator in 2018, coaching alongside Quatraro for Rays manager Kevin Cash.
When Quatraro was named Kansas City's manager in October, Hoover was his first hire. Quatraro was still involved in pregame meetings with the coaches by telephone.
"A lot more responsibilities just as far as making the decision, so to speak, but we'll do it collectively," Hoover said. "The last four to five days, I've just been giving my opinion. Q's ultimately making that decision. I'm happy that (Quatraro) and his family are doing well. We have a good group around us that will help us get through these couple days."
The Royals placed outfielder Kyle Isbel on paternity leave Wednesday and recalled infielder Nick Pratto
The Blue Jays claimed outfielder Jordan Luplow off waivers from the Atlanta Braves. He was optioned to Triple-A Buffalo
--Field Level Media