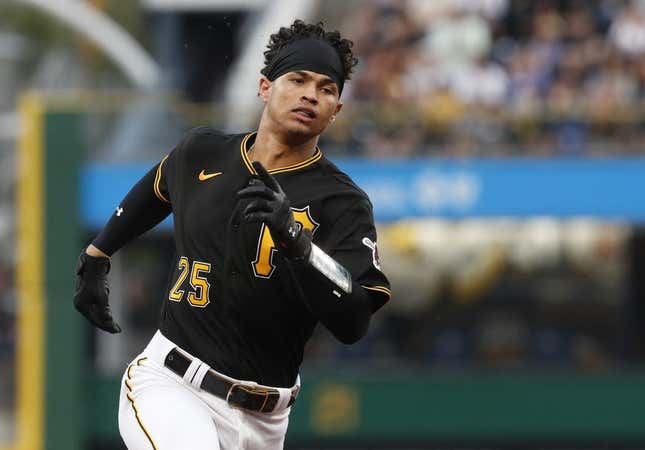 Life after the major league trade deadline is here for the Pittsburgh Pirates and visiting Detroit Tigers
How running an NFL team is like running a restaurant | Chef Emeril Lagasse
A very small sample size shows it's going better for Pittsburgh
The Pirates traded four players off their major league roster on Tuesday, but the team's youngsters took the baton and helped lead Pittsburgh to a 4-1 win in the opener of a two-game set
Pittsburgh rookies Endy Rodriguez, Jared Triolo, Liover Peguero and Alika Williams combined to go 5-for-12. Peguero hit a two-run homer, Rodriguez had an RBI triple, and Williams added a double. Triolo singled and scored
"This team is amazing. We're always trying to hold each other accountable," Peguero told AT&T Sportsnet. "I feel like as (long) as we keep playing together, these things are going to keep happening.
As for the youth movement -- which also includes Nick Gonzales, Henry Davis, Carmen Mlodzinski and Jose Hernandez -- Peguero said, "I've only got one word, and it's 'family.' When you've got a family and everybody's together, everything goes amazing.
In recent days, Pittsburgh traded away catcher Austin Hedges, starter Rich Hill, infielder Rodolfo Castro, first baseman Ji Man Choi and Carlos Santana
Detroit dealt right-hander Michael Lorenzen for a prospect on Tuesday
Both teams are not in contention as they move on from the trade deadline
"We've got to focus on what we can control, which is trying to play more competitive baseball and win more games," Tigers manager A.J. Hinch said. "A lot of us have been together in this. This group we went with (Tuesday) has got an opportunity to play better as we go on
"We're just going to make sure we show up and play (with) a quick turnaround (for Wednesday's day game).
One thing the Tigers have to look forward to is designated hitter Miguel Cabrera's climb up the record books
Cabrera, who has announced he will retire after this year, went 1-for-3 with a single on Tuesday. He raised his total to 3,138 career hits, three shy of tying Tony Gwynn for 21st place in major league history. Another 14 hits after matching Gwynn would move Cabrera past Robin Yount, Paul Waner and George Brett
On Wednesday, Detroit left-hander Eduardo Rodriguez (6-5, 2.95 ERA) is scheduled to oppose Pittsburgh right-hander Osvaldo Bido (2-1, 4.50)
Rodriguez very nearly became an ex-Tiger on Tuesday, but he utilized his partial no-trade clause to veto a potential deal to the Los Angeles Dodgers
Detroit general manager Scott Harris said, "We're excited to get Eduardo back. He sent a very strong message that he likes it here.
Rodriguez had his two-start winning streak snapped on July 25 against the Los Angeles Angels as he wound up with a no-decision. He allowed four runs and seven hits in 4 2/3 innings
"Fastballs, changeups -- all the pitches were kind of off," Rodriguez said. "I feel like the command of every pitch was kind of off. ... Everything was all over the place.
Rodriguez is 0-1 with a 5.23 ERA in two career starts against the Pirates. The loss came on May 17 at home when he gave up four runs and six hits in five innings
Bido, who will be making his ninth career appearance and seventh start, is back in the rotation. On July 22, he followed opener Ryan Borucki in a game against the Angels and picked up a win in the 3-0 contest with three scoreless innings
He got into and out of a bases-loaded, no-out jam in the fourth
"He's an even-keeled dude," Borucki said. "He doesn't let the big moment get too big for him.
Bido has never faced the Tigers
--Field Level Medi