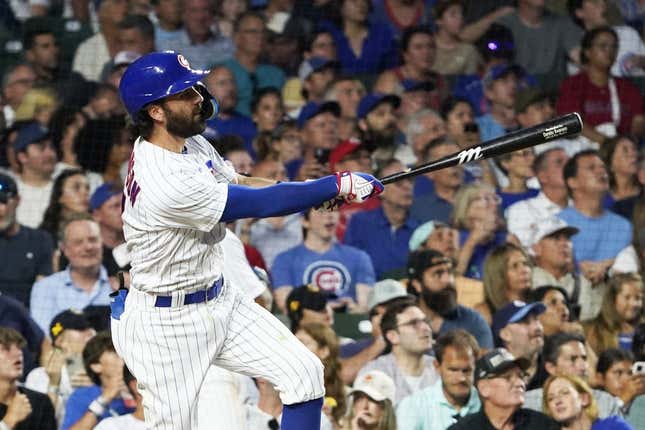 Jameson Taillon will shoot for his third consecutive victory on Thursday night and undoubtedly would like to see the Chicago Cubs continue their August offensive onslaught against the visiting Cincinnati Reds
How running an NFL team is like running a restaurant | Chef Emeril Lagasse
The surging Cubs will look for their third straight win as well, and a series victory, in the finale of the four-game set
After falling 6-5 to the National League Central-leading Reds on Monday, Chicago tied a club record with seven homers in Tuesday's 20-9 victory. Then Wednesday, the Cubs went deep five times and overcame two three-run deficits for a 16-6 win
The Cubs, who enter Thursday's action in third place in the division but just three games behind the Reds, have averaged 8.1 runs while batting .321 with 30 homers during their current 12-3 stretch
"These guys are just staying within themselves. Balls are going all over the place," Chicago manager David Ross said. "Guys are getting really big hits.
Chicago's Dansby Swanson has turned a hot streak even hotter of late. He has four homers in the last three games, and over his last 14 games, he has seven homers, 16 RBIs and a .315 batting average
Teammate Jeimer Candelario has back-to-back four-hit games since being acquired from Washington on Monday
The season didn't begin well for Taillon, who is 5-6 with a 5.46 ERA going into this start
After the right-hander's first 14 starts, he was 2-6 with a 6.93 ERA in his first season with the Cubs. Since then, he's 3-0 with a 1.78 ERA. On Saturday, Taillon allowed four walks but just one run and two hits in six innings of a 5-1 victory at St. Louis
"I just feel like once I had one good start, that's what I needed to kinda remember that feeling and just know that I'm going about it the right way," Taillon said
"Just remember that feeling and carry it forward.
Taillon faced the Reds earlier in the season, before his turnaround. On May 27 in Wrigley Field, he allowed four runs and six hits in 4 2/3 innings. He didn't get a decision in the Reds' 8-5 win
In 14 career starts against Cincinnati, Taillon is 4-5 with a 4.64 ERA
Longtime Reds star Joey Votto is 6-for-30 against Taillon, but after posting his 20th multi-homer game on Wednesday, Votto is 6-for-13 with three home runs and seven RBIs in his last three contests. In his career at Wrigley, Votto is a .324 hitter with 26 homers and 75 RBIs
Cincinnati is 4-5 since winning five straight from July 19-23
"Two tough games. We're not going to make it more than that," said Reds manager David Bell, whose pitchers have a 13.32 ERA and have allowed 45 hits in the series
Scheduled Reds starter Luke Weaver (2-3, 6.80 ERA) will look to build on just his second quality start in 18 outings this season
Though the right-hander took the loss against the Dodgers in Los Angeles on Saturday, he allowed just two hits over six innings. But both hits were homers that produced all of the Dodgers' runs as they beat the Reds 3-2. However, only one of the runs was earned
"This game has a lot of ups and downs," Weaver said. "But there's peace in knowing there's a moment to learn from and get better from.
Weaver is 1-3 with an 8.59 ERA in seven career starts against the Cubs, but they haven't faced him since 2019, while he was with Arizona
--Field Level Medi