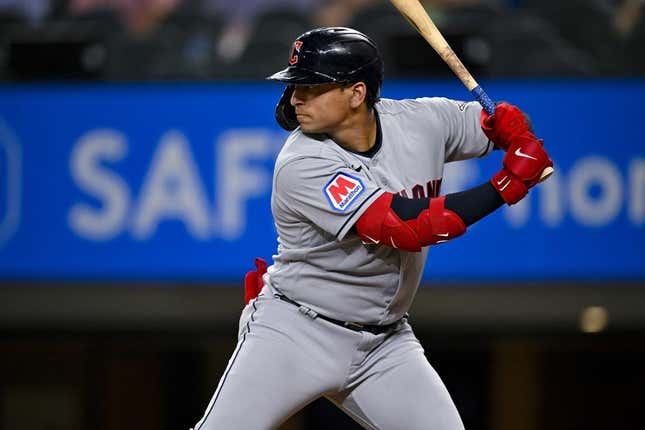 The Cleveland Guardians will shoot for a three-game series sweep of the host Pittsburgh Pirates on Wednesday. It could be a wild one
How running an NFL team is like running a restaurant | Chef Emeril Lagasse
Cleveland has outscored the Pirates 21-1 through the first two games of the series. Six of the Guardians' 25 hits have been homers -- half of those dingers coming from first baseman Josh Naylor
The Guardians roughed up Pirates All-Star starter Mitch Keller for eight runs and 10 hits in a 10-1 win on Tuesday
"We've just got to try to play to win the game and have fun while we're doing it, and good things will happen when you're doing that," said Naylor, who amassed nine RBIs in the first two games against Pittsburgh. "I just try to provide as much as I can."
The Pirates, who are going with a lineup heavy with rookies as the season has gone sideways, have lost five games in a row and nine of their past 10. Pittsburgh batters have managed a total of nine hits in the first two games against Cleveland while striking out 23 times
"The big leagues is hard, and I think we're seeing that," Pittsburgh manager Derek Shelton said of his youngsters. "They have to stay with it. Don't let four at-bats, five at-bats, 10 at-bats, whatever, kind of define what your thought process is. ... It takes a while to get your footing."
Shelton believes one silver lining going into the Wednesday game is that Keller, despite getting hit hard and early, muscled through six innings to take some pressure off the Pirates' bullpen
"It was vital," Shelton said.
In the series finale, Cleveland right-hander Aaron Civale (3-2, 2.65 ERA) is scheduled to start opposite Pittsburgh left-hander Rich Hill (7-9, 4.76).
Civale did not get a decision on Friday when he gave up two runs and five hits in five innings at Texas. The Rangers came back against the Guardians' bullpen for a 12-4 win
Even with a fresh bullpen after the All-Star break, in hindsight, there might have been questions regarding whether Civale was pulled too quickly. He had an eight-pitch fifth and left with a 4-2 lead after throwing 79 pitches.
"He started tiring in the fifth," Cleveland manager Terry Francona said.
Civale didn't complain.
"Trying to give it my all every time out there," Civale said. "Sometimes it's 100-plus pitches; sometimes it's not."
Civale is 1-1 with a 6.23 ERA in two career starts against the Pirates
Hill has lost four of his past five decisions. He did not get a decision on Friday against San Francisco despite a quality start, giving up three runs in six innings in what became a Giants comeback win.
Still, Hill pulled off something interesting, in the ballpark of old dogs and new tricks. The 43-year-old veteran debuted a splitter, something he had been toying with but never used in a game until after he worked on it during the All-Star break.
"It's a game of adjustments or continuously trying to get better. It doesn't matter how old you are or how long you've been around," said Hill, the oldest player in the major leagues.
"I think realizing that there's room to grow, continue to work on things that I can get better at, that was certainly something that I felt could be added into the pitch mix."
Hill is 2-1 with a 3.81 ERA in 12 career appearances (five starts) against the Guardians
--Field Level Media