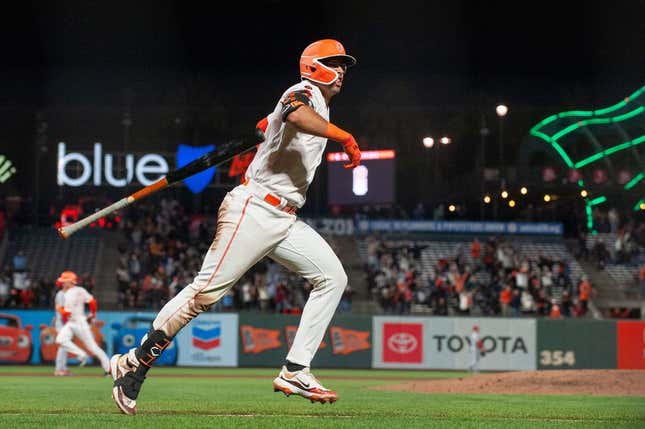 The San Francisco Giants have the unenviable task of following up on two improbable endings when they go for three wins in a row against the visiting St. Louis Cardinals on Wednesday night
Giants right-hander Anthony DeSclafani (1-1, 2.63 ERA) and Cardinals left-hander Steven Matz (0-3, 6.55) are the projected starters
One night after watching Alex Cobb get mobbed coming off the mound at the end of his first shutout in almost 11 years, the Giants got even more excited as Blake Sabol rounded the bases following his two-run, walk-off home run for a 5-4 win in the rematch
The game-ending blast occurred after the Cardinals rallied for three runs in the eighth inning to go up 4-2. The Giants pulled to 4-3 in the ninth before Sabol came up with two outs and a runner at second, then fell behind 1-2 in the count
The next pitch turned a potential loss into a win -- San Francisco's fourth straight overall -- thanks to the rookie's fourth homer of the season, triggering a moment that had Giants manager Gabe Kapler at a loss for words
"That's about as tough a situation as you can draw up," Kapler said of facing Cardinals closer Ryan Helsley. "You're fighting for your life with two strikes, and for him to get off a swing like that is pretty remarkable. Very, very unexpected outcome. Very challenging situation for a young hitter, and you just don't see it end that way very often
"I've never seen a happier player than Blake Sabol. Really cool moment. One of the coolest moments since I've been here."
The task of opening the curtain on a possible three-peat falls upon DeSclafani, who has allowed zero, one, three and four runs in his four starts, with the Giants winning the first two games and losing the next two
The 33-year-old veteran, who spent five seasons in the National League Central with the Cincinnati Reds, is quite familiar with the Cardinals -- and vice versa -- having faced them 18 times, including 17 starts. He is 7-5 with a 3.80 ERA vs. St. Louis
DeSclafani no doubt isn't looking forward to facing Cardinals slugger Paul Goldschmidt, who has the most hits (14) and doubles (five) among DeSclafani's all-time opponents. Goldschmidt has a .519 average and a 1.520 OPS in 32 plate appearances vs. the right-hander
The good news for DeSclafani is he has had no such trouble with Goldschmidt's sidekick, Nolan Arenado, who has gone 1-for-9 in lifetime head-to-heads.
Goldschmidt had two hits while Arenado went 0-for-4 in the Cardinals' Tuesday loss, one that manager Oliver Marmol tried to spin in a positive direction afterward
"At the end of the day, we're going through a tough one," he said of opening a West Coast swing with four losses in five games. "When we suffer like this, it creates some perseverance, and perseverance builds character.
"I'll tell you right now: This will serve us well down the road. This group's not going to cave; I don't care what people say. This will serve us extremely well in September, I will tell you that."
Matz has yet to start a win this season, allowing 26 hits, 10 walks and 16 runs in his 22 innings.
The 31-year-old has started five times in his career against the Giants, going 1-1 with a 4.50 ERA
The Cardinals' road trip will conclude with a game Thursday in San Francisco, then with three games against the Los Angeles Dodgers this weekend
--Field Level Media