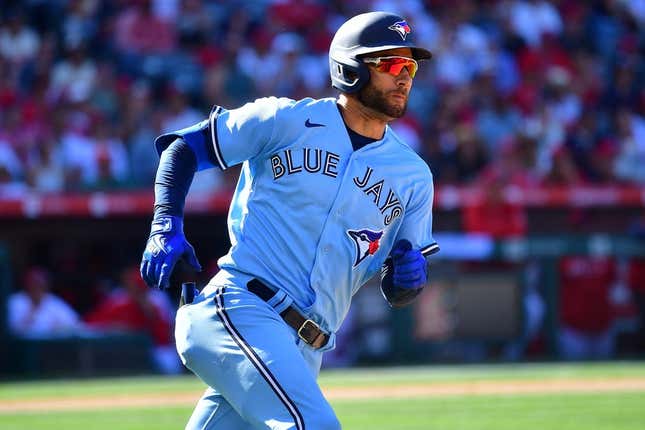 After starting their season with a 6-4 trip, the Toronto Blue Jays will play their home opener in a renovated ballpark Tuesday night against the Detroit Tigers
Bass' ERA stinks, but not compared to who he is off the mound | Worst of the Week Countdown
The Blue Jays completed their trip Sunday with a wild, 12-11 victory in 10 innings over the Los Angeles Angels. They trailed 6-0, led 10-6 and were tied 10-10 after nine
Toronto right-hander Alek Manoah (1-0, 4.35 ERA) will start Tuesday. Over two career starts against Detroit, he is 0-1 with a 4.63 ERA.
Detroit will start right-hander Matt Manning (1-0, 3.18). He is 0-0 (1.50) in one career start against Toronto that lasted six innings.
Manoah already has developed an appreciation of an outfield defense improved by the additions of Kevin Kiermaier and Daulton Varsho.
"They're amazing," Manoah said. "Their first step is really a difference-maker. It kind of feels like they're moving before the ball is even hit."
Kiermaier also contributed with the bat Sunday with three hits and five RBIs. Third baseman Matt Chapman continued his torrid start with three hits and five RBIs, including a grand slam.
Chapman is batting .475/.523/.800 with two home runs and 14 RBIs.
"We all try to feed off each other and make plays and do whatever we need to do," Kiermaier said. "There were some interesting moments (Sunday), but at the end of the day we shook hands and we're here celebrating a great flight back to Toronto."
"It was going to be great, no matter what, to go home," Toronto manager John Schneider said. "But I think getting out of (Anaheim) with a win, winning a series and winning a road trip at the same time, it just makes that long flight a little bit more enjoyable. ... Definitely looking forward to getting in front of our fans on Tuesday."
The Tigers lost 4-1 Sunday to the Boston Red Sox and were swept in three games in their first home series of the season. Detroit has lost four straight
"When we come to the ballpark every day. ... with a clear thought that we're going to win today's game," Tigers manager A.J. Hinch said. "We don't carry a lot of baggage with us. We don't spend a lot of time talking about what's happened in the rearview mirror. It's our reality; that's why they keep the standings. But we spend a ton of time and focus on what we're doing that day.
"We hate to lose," said Tigers center fielder Riley Greene, who was 1-for-4 on Sunday. "It's one of the worst things ever, in my opinion. But we really have to try our hardest to leave it in the past. ... Just forget about everything that happened the past couple days. New series, new city.
The Rogers Centre renovations were made to enhance the fan experience, but they also have resulted in closer fences in left and right center.
It is now 368 feet to the wall in left center (previously 375 feet) with the wall height increased from 10 feet to 11 feet, two inches. Right center is 359 feet (previously 375) and the wall height increased from 10 feet to 14 feet, four inches.
--Field Level Media