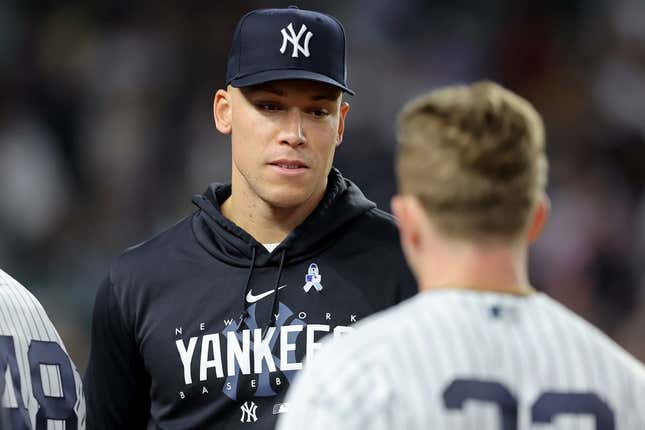 On Tuesday afternoon, general manager Brian Cashman attempted to deflect some of the criticism being directed at his New York Yankees, who are missing injured Aaron Judge and featuring several struggling players
Is Texas or Florida State a bigger national title contender? | Agree to Disagree
A few hours later, Anthony Rizzo had his first multi-hit game since May 26 and the Yankees did enough to get a much-needed win
After ending their four-game losing streak, the Yankees will try to win a series for only the second time since losing Judge when they host the Seattle Mariners on Wednesday night
The Yankees are 5-8 with Judge out of the lineup due to an injured big toe he suffered while running down a fly ball by J.D. Martinez on June 3 at Dodger Stadium. Although they were held to three runs or less Tuesday for the ninth time since losing Judge, the Yankees were feeling slightly better after Rizzo doubled twice and collected his first three-hit game since May 23 in a 3-1 win over the Mariners
"We have a lot of professional hitters, a lot of really good quality hitters that are capable of a lot of great things," Cashman said. "We're not going to do any trading to replace Judge. Ultimately, we've just got to wait for him to get back. In the meantime, we've definitely got a lot of guys that are more than capable of doing great things for us. We just need that."
Seattle is 35-36 after striking out 10 times and producing four hits Tuesday. Jarred Kelenic had an RBI double, but the quartet of Julio Rodriguez, Ty France, Teoscar Hernandez and Eugenio Suarez were a combined 1-for-15.
The Mariners will attempt to get back to .500 for the 14th time this season and sixth time this month but likely will be without leadoff hitter J.P. Crawford. Crawford exited Tuesday's game with a right shoulder contusion when Harrison Bader stole second in the second inning
"I never want to come out of the freaking game," said Crawford, who will get an MRI Wednesday. "I want to be in there. I collided with Bader. It was kind of like a weird little collision, and I just felt it right after. (I) could barely lift my arm up, and I knew I wasn't going to help my team after that because I probably couldn't make a throw to first base."
After George Kirby opened the series, right-hander Luis Castillo (4-5, 2.73 ERA) will attempt to halt his three-start losing streak. Since pitching six innings of one-hit ball against the Pittsburgh Pirates on May 27, Castillo is 0-3 with a 2.89 ERA.
Castillo last pitched a week ago against the Miami Marlins when he allowed two runs on two hits in 5 2/3 innings of a 4-1 loss. He walked six.
Castillo is 1-1 with a 2.36 ERA in four career starts against the Yankees. Three of those occurred last season when he faced them once as a member of the Cincinnati Reds, then allowed three runs in 14 2/3 innings over his first two outings in Seattle after being acquired at the trade deadline
New York rookie Jhony Brito (3-3, 5.58) will be recalled from Triple-A Scranton/Wilkes-Barre for his 10th career start. Brito last pitched May 20 in Cincinnati when he allowed four runs in four innings. The right-hander never has faced the Mariners
--Field Level Media