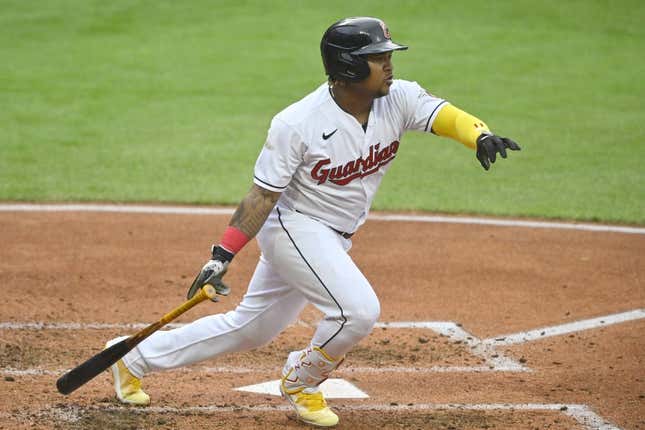 The Cleveland Guardians will continue their desperate search for offense when they meet the visiting Detroit Tigers in the second game of their three-game series on Tuesday night
Chris Paul should ride the bench next season | Keep it a Buck(et)
The Guardians lost the series opener 6-2 on Monday, the 22nd time in 35 games they've scored three runs or fewer this season
"We're not keeping the line moving, even when we get started, we've just got to keep it going," Cleveland manager Terry Francona said. "It can be frustrating, but the choices are to dig in and see if you can do better, or get frustrated."
In the loss on Monday, the Guardians had several opportunities to tack on additional runs, but couldn't come through in the clutch
Cleveland had runners on first and third with no outs in the first, but it plated only one run on a double-play grounder by Jose Ramirez.
Ramirez homered to lead off the fourth to cut Detroit's lead to 4-2, but he popped out representing the tying run in the sixth.
Cleveland also had runners on the corners and one out in the seventh but failed to capitalize.
Francona said his players have a right to be frustrated.
"I don't think we're supposed to be having a party when we're not scoring," he said. "I don't think anybody feels like that. But they're getting after it. They show up early, they hit extra and they keep their enthusiasm during the game, but they get tired of making right turns. I get it."
Detroit, meanwhile, will try to maintain its early-season dominance of the Guardians
The Tigers have won three of the four games against their American League Central rival so far
The bottom two hitters in the order, Andy Ibanez and Eric Haase, set the table for the top of the order on Monday.
Ibanez and Haase combined to go 5-for-7 with five runs, while the top four hitters in the lineup went 6-for-17 with five RBIs.
Cleveland plans to send right-hander Shane Bieber to the mound on Tuesday.
Bieber (2-1, 2.96 ERA) did not earn a decision last Wednesday in his most recent outing, but he pitched well enough to win.
The 2020 AL Cy Young Award winner allowed two runs and five hits in eight innings, striking out four and walking one in a 4-3, 10-inning loss to the New York Yankees.
The start before, Bieber allowed two runs and five hits in seven innings of a 5-2 win against the host Boston Red Sox on April 28.
Bieber is 8-4 with a 2.39 ERA in 12 career starts against the Tigers
The Tigers plan to send right-hander Michael Lorenzen to the mound against Bieber, a fellow Orange County, Calif., native
Lorenzen (1-1, 5.14) is coming off his best outing of the season, holding the New York Mets to one run and four hits over seven innings in an 8-1 win last Wednesday. He struck out one and walked two.
Detroit gave him a 3-0 lead after two innings and a six-run cushion after four.
"Pitching with the lead is nice," Tigers manager A.J. Hinch said. "He also settled down and just executed pitches. He didn't overcomplicate things. He didn't stray from what he does best. He used his weapons.
Lorenzen has made nine appearances (one start) against Cleveland in his career and is 2-1 with a 3.00 ERA.
--Field Level Media