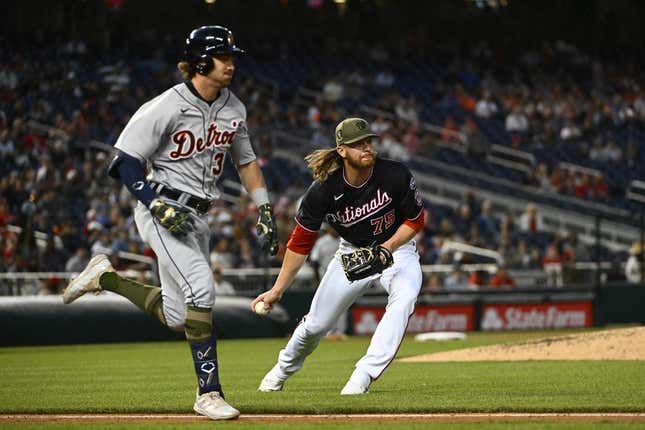 Akil Baddoo homered and drove in four runs as the Detroit Tigers topped the host Washington Nationals 8-6 on Friday night in the opener of a three-game series
'Soccer fandom is full of gatekeepers' says Ted Lasso actor Brendan Hunt
Detroit starting pitcher Matthew Boyd didn't allow a hit until the sixth inning.
Baddoo's three-run shot in the third inning was his first homer of the season, coming in his 31st game.
Zach McKinstry led off the game with a home run en route to the Tigers' third victory in their last four games. Matt Vierling added a solo shot in the fifth and Riley Greene followed suit in the sixth
Boyd (3-3) made it through five innings on 58 pitches, pitching to the minimum number of batters thanks to a pair of double plays.
Keibert Ruiz doubled to lead off the bottom of the sixth for the Nationals' first hit. Then CJ Abrams roped a one-out double to dash the shutout. Lane Thomas followed with a two-run homer for his sixth bomb of the season
Boyd lasted 5 2/3 innings, giving up four hits (all for extra bases) and one walk, and he struck out four.
Washington scored on a wild pitch and Ruiz's two-run homer to close within 8-6 before an out was recorded in the the seventh. It marked Ruiz's fourth home run.
Still, The Nationals lost their fourth game in a row
Right-hander Alex Lange worked 1 1/3 innings with two strikeouts for his eighth save.
Nationals starter Jake Irvin (1-2), a rookie in his fourth big-league game, surrendered six runs, four earned, in 2 2/3 innings. He walked four and struck out only one in his second rough outing in a row
McKinstry's third homer of the season came on Irvin's fifth pitch. Detroit added two more runs in the inning on Andy Ibanez's groundout and Baddoo's two-out single. Irvin delivered 36 pitches before the top of the first concluded.
The homers for Vierling and Greene marked their third and fourth, respectively, of the season. Vierling and Greene joined Baddoo with two hits.
--Field Level Media