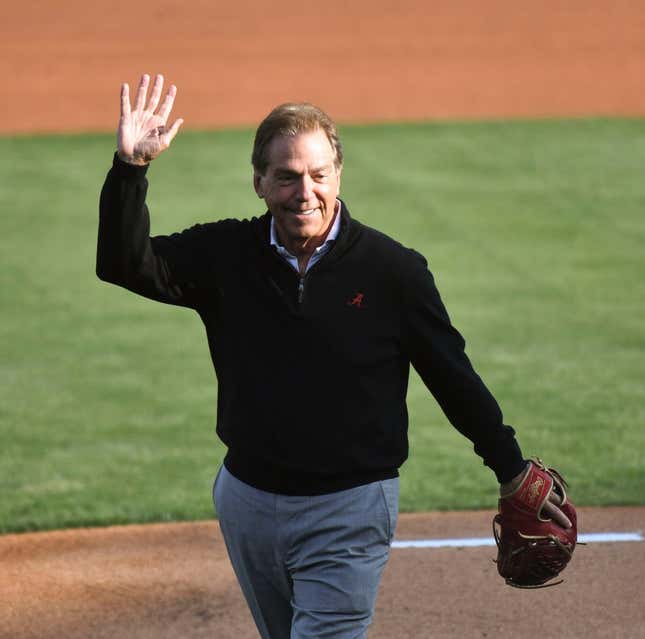 Georgia won the past two college football national titles, but Alabama coach Nick Saban learned the Crimson Tide's reach remains significant over the offseason
Is Texas or Florida State a bigger national title contender? | Agree to Disagree
In Italy to celebrate 50 years of marriage with his wife Terry, Saban toured Ferrari's headquarters and production facility. He left without a car but found an unexpected turbo boost from the company's employees.
"We got 'Roll Tided' everywhere we went," Saban said Wednesday at SEC Media Days in Nashville. "Even at the Ferrari plant. These cats don't even speak English and we're getting Roll Tide. I guess we have a pretty decent brand, I'm talking about the University of Alabama."
Saban and "Miss Terry" put off Italy for two years but took the time this summer to head overseas. Now Alabama wants to put a charge in the rest of the SEC after watching the Bulldogs reign as national champs the past two seasons.
There are goals for the Crimson Tide, but Saban doesn't discuss expectations, a taboo term in his program
"Expectations are a premeditated way to create disappointment," he said, "and that's why you stay process-oriented."
Alabama, like rival Auburn and Georgia, is unsettled at quarterback entering fall camp. Bryce Young, the No. 1 overall pick in the 2023 NFL Draft and the 2021 Heisman Trophy winner, leaves a crater for the Crimson Tide offense to fill
Saban said none of his quarterback options created separation in the spring and so, as with "Grandma Saban's best cake in the world," the plan is to "not rush it."
"She'd say 'if I take it out of the oven too soon, it's gonna turn to mush.' We have to make sure we let the cake bake," Saban said.
Alabama also has new coordinators following the exit of Bill O'Brien on offense, but Kevin Steele returned to fill the void at defensive coordinator for his third stint on Saban's staff.
Tommy Rees has the dual role of coordinator and quarterbacks coach and drew raves from Saban on Wednesday. Rees was offensive coordinator at Notre Dame, where he played quarterback, for current LSU coach Brian Kelly.
"Tommy Rees is one of the brightest young minds I've seen in a long time in this business," Saban said.
Rees and whomever claims the quarterback job might have an easier time considering the talent Alabama features on the offensive line. That includes junior offensive tackle JC Latham, who wore a massive necklace with the initials "TK" on Wednesday at media days.
"I wanted to have my own name, that's why I came up with Trench King," Latham said. "Everybody o-line, d-line, they live in the trenches. I want to be the best."
--Field Level Media