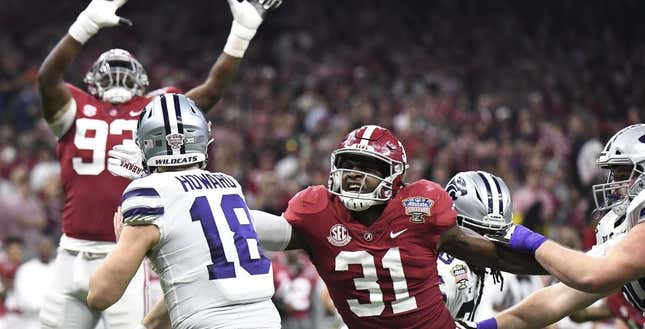 To borrow a phrase from his college coach, Alabama outside linebacker Will Anderson Jr. didn't come this far to come this far.
Anderson, regarded a surefire top-five pick in the 2023 NFL Draft, has had meetings with the Chicago Bears, Houston Texans and Arizona Cardinals during the NFL Scouting Combine in Indianapolis. Those teams own the top three picks in the draft.
"The culture is great there. I can tell they're onto something special," Anderson said of his time with the Bears in an interview that took place in a hotel room in the city.
Anderson also said he had was "very excited" about his session with the Texans, who hold the No. 2 pick.
"It means a lot -- it just shows all your hard work has been paying off," Anderson said.
Anderson played outside linebacker in the Alabama 3-4 defense and wasn't asked to play with his hand in the dirt out of a three-point stance often. He's been training at defensive end and outside linebacker, and said most teams classify him as an "edge" player with the versatility to rush the passer at either position.
Just 21 years old, Anderson had 10 sacks in 2022 while facing double-team blocks more than 80 percent of passing plays. He had 34.5 career sacks, the kind of production that will get general managers on campus. The Bears and Texans were both on the ground in Tuscaloosa during the 2022 season, but that's not a rarity for the football factory run by coach Nick Saban.
Georgia defensive tackle Jalen Carter and Anderson are the top-ranked defensive players in the draft. Anderson tapped the left side of his chest when asked what made him the best of the bunch.
"What you have in here. That's what carried me to this point in my life. ... I feel like what I bring to the table, just consistency, being humble," Anderson said. "Whatever culture I'm in, I'm going to do things the right way. I think that's what sets me apart."
Anderson considers himself a student of the game and has studied former Bears linebacker Khalil Mack, now with the Los Angeles Chargers, and San Francisco 49ers defensive end Nick Bosa to polish his pass-rush arsenal.
Saban said last month that Anderson and prospective No. 1 overall pick Bryce Young separated themselves at Alabama through their constant competitiveness and football character.
Anderson said Wednesday that's a big reason he'll be participating in workouts with linebackers on Thursday. For the record, Young isn't in the quarterback workouts, preferring to host scouts and general managers at his pro day this month.
"I'm super excited," Anderson said. "All the work has been good."
Anderson has found comfort during the Indianapolis speed-dating trial that is the combine, thanks to 13 total Crimson Tide players being on the invite list for the event.
Young, Anderson, linebacker Henry To'oTo'o and safety Brian Branch all rank in the Field Level Media Top 50, and running back Jahmyr Gibbs also could be drafted in the first two rounds.
--Field Level Media