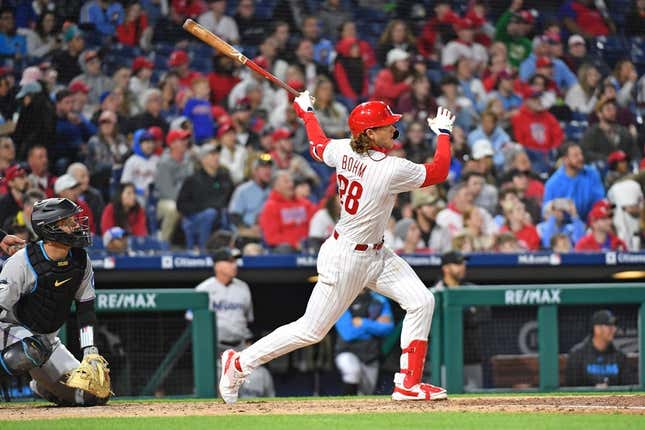 Alec Bohm homered, singled twice and drove in six runs to lift the host Philadelphia Phillies to a resounding 15-3 victory over the Miami Marlins on Monday
'Soccer fandom is full of gatekeepers' says Ted Lasso actor Brendan Hunt
Bohm's six RBI tied his career high.
Brandon Marsh added a home run among his three hits with three RBI.
Jake Cave hit a solo homer and double while Nick Castellanos added three hits and three RBI. Trea Turner had three singles and an RBI.
Kyle Schwarber and Bryson Stott contributed two hits apiece as the Phillies accumulated 20 hits overall
Phillies starter Matt Strahm (1-0) tossed five scoreless innings and gave up four hits with six strikeouts and one walk
Yuli Gurriel had two hits, including a home run, Garrett Cooper added three hits and an RBI and Luis Arraez chipped in with two hits for the Marlins
Marlins starter Sandy Alcantara (1-1), the reigning National League Cy Young Award winner, struggled through four-plus innings as he allowed 10 hits and nine runs to go along with four strikeouts and one walk
Gurriel hit a solo home run off McKinley Moore in the seventh inning to finally put the Marlins on the board, though they trailed 13-1. A wild pitch by Andrew Vasquez and an RBI single by Cooper closed the Marlins within 13-3
Philadelphia's Cristian Pache came back with an RBI single in the seventh for a 14-3 advantage. Castellanos was then called out on strikes and ejected by home plate umpire John Libka for marking a spot in the dirt.
In the third, Cave blasted a solo home run 413 feet to right field and Turner added an RBI single for a 2-0 Phillies lead. Castellanos ripped an RBI double and Bohm followed with a two-run single for a 5-0 advantage
Castellanos and Bohm each hit an RBI single in the fifth for a 7-0 lead and that was enough to have Alcantara pulled from the game. Devin Smeltzer replaced him and Marsh greeted him with a two-run double for a 9-0 advantage.
In the sixth, Castellanos hit an RBI single and Bohm launched a three-run homer for a commanding 13-0 lead.
--Field Level Media