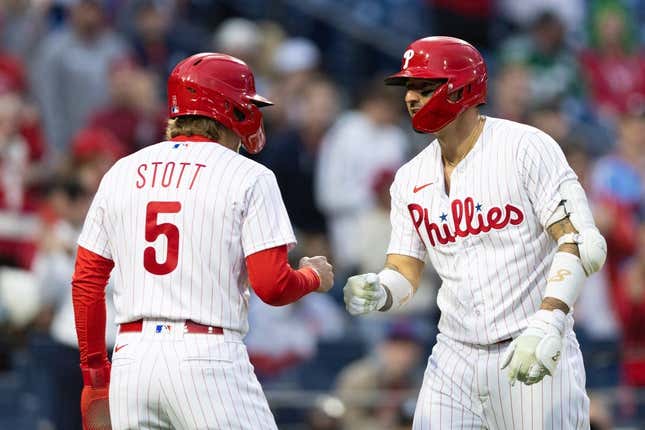 Alec Bohm hit a go-ahead RBI single in the eighth inning to lift the host Philadelphia Phillies to a 6-5 victory over the Seattle Mariners on Wednesday
Air Jordans are more American than McDonald's French fries | Deon Cole's Ultimate Sports Fantasy
Nick Castellanos homered, singled twice and drove in three runs, while J.T. Realmuto added two hits and an RBI for the Phillies
Bryson Stott had two hits and Kyle Schwarber contributed an RBI single. Brandon Marsh also had a single to extend his on-base streak to 21 straight games.
The Phillies had 12 hits, and 11 were singles
Phillies starter Taijuan Walker lasted only four innings and allowed five hits and five runs with six strikeouts and two walks. Soon after Walker was pulled, the Phillies announced he had right forearm tightness
Craig Kimbrel (1-0) earned the win with a scoreless eighth inning. Jose Alvarado earned his fourth save in five chances despite allowing a two-out double to J.P. Crawford in the ninth.
Crawford hit a grand slam, doubled and singled for Seattle, while Julio Rodriguez also homered.
Eugenio Suarez added two hits and extended his career-best on-base streak to 21 consecutive games.
Mariners starter Logan Gilbert gave up seven hits and four runs with six strikeouts and one walk in five innings
Justin Topa (0-2) took the loss in relief.
In the bottom of the eighth, Castellanos singled, as did Marsh, which sent Castellanos to third. Realmuto then delivered an RBI single to center and Bohm followed with his go-ahead hit as the Phillies went up 6-5
The Phillies went ahead 2-0 in the first when Castellanos hit a two-run homer to right-center field
The Mariners struck back for five runs in the second with the grand slam by Crawford, the second of his career, and a solo shot by Rodriguez. The two homers were back-to-back
In the third, Schwarber hit an RBI single to left to close within 5-3.
Castellanos ripped an RBI single to center with two outs in the fifth to slice the deficit to 5-4.
--Field Level Media