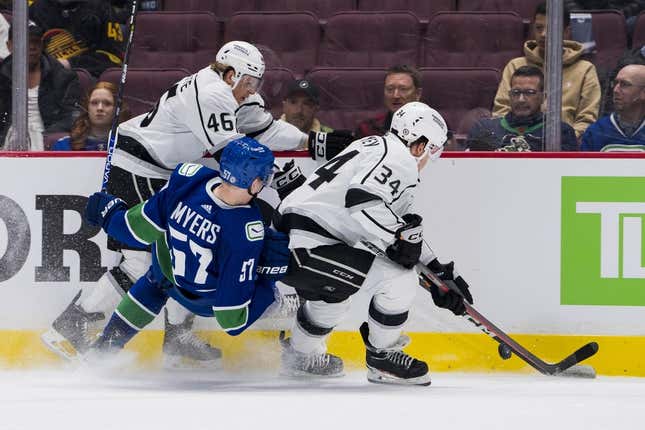 Alex Iafallo scored Los Angeles' first two goals as the Kings earned a spot in the Stanley Cup playoffs by claiming a 4-1 win over the host Vancouver Canucks on Sunday
Needing just one point to secure a spot in the postseason, Los Angeles (45-22-10, 100 points) grabbed two and leap-frogged Edmonton (99) for second place in the Pacific Division.
The Kings will host the Oilers on Tuesday for the teams' final meeting of the regular season
Arthur Kaliyev and Blake Lizotte had a goal and an assist apiece, and Anze Kopitar dished out two helpers as Los Angeles won for the first time in three meetings with Vancouver (1-1-1).
Goaltender Joonas Korpisalo stopped 24 of 25 shots as the club held the opposition to two goals or fewer for the 14th time in the past 15 games.
Vancouver (34-35-7, 75 points) got a goal from Brock Boeser and 21 saves from Thatcher Demko, but the Canucks failed to earn a point for the first time in the past 11 contests (9-1-1) with Los Angeles
Elias Pettersson's career-best 14-game point streak came to an end, leaving him one shy of tying the franchise record.
With defenseman Guillaume Brisebois out, Akito Hirose made his NHL debut on the rearguard with 14:01 of ice time.
Vancouver struck first at 5:56 after J.T. Miller put a hard shot from the left circle on Korpisalo. Boeser found the rebound and popped in his 17th marker.
A thorn in the division rival's side throughout his career, Boeser tallied for the 14th time to go along with 19 total points in 15 games against the Kings
After recording his 200th and 201st career points in his club's 3-1 win in Seattle on Saturday, Iafallo added to his total and tied the match with a wicked one-timer with nearly seven minutes left in the first.
During a second-period power play, Iafallo found a puck in front of Demko and put it in. His 14th tally at 3:24 gave Los Angeles its first lead.
However, the bad news for the Kings in the period was the announcement that their defensive corps -- already besieged by injury -- lost Alexander Edler for the remainder of the match
After a strong penalty kill, the Kings used the momentum to pocket an insurance marker when Kaliyev whipped in his 12th goal at 13:35 for a 3-1 advantage, before Lizotte's empty-net tally
--Field Level Media