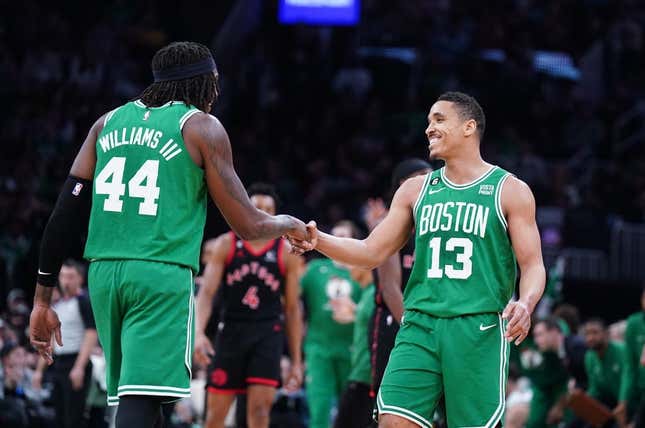 The Toronto Raptors aim to improve their play-in tournament seeding Friday night when they visit the Boston Celtics to complete a two-game set
Will South Beach Flu give the Heat home court advantage? | Keep it a Buck(et)
The short-handed Celtics (55-25) clinched the second seed in the Eastern Conference on Wednesday with a 97-93 victory over the visiting Raptors (40-40)
The Raptors occupy ninth place in the East and must win both remaining games to have a chance of moving up in the play-in pecking order
Heading into NBA play Thursday, the Raptors trailed the eighth-place Atlanta Hawks by one game and the seventh-place Miami Heat by 2 1/2 games. The Hawks hold the tiebreaker advantage with the Raptors
The Raptors will complete their regular-season schedule against the first-place Milwaukee Bucks at home on Sunday
Boston was without Jayson Tatum (hip), Marcus Smart (neck), Al Horford (back) and Payton Pritchard (heel) on Wednesday and the Raptors had a full team with Gary Trent Jr. (elbow/back) returning from injury
"I mean I think every loss is frustrating at different levels," said the Raptors' Fred VanVleet, who had just seven points after going 1-for-12 from 3-point range and 2-for-14 overall from the field
The Raptors were 6-for-33 (18.2 percent) on 3-point attempts and 41.1 percent from the field overall
"You know, we played a pretty good game for the most part and our execution was there," VanVleet said. "I wouldn't give it an A-plus by any stretch, but we fought, we competed, we made plays. I mean, 6-for-33 from 3, it's going to be hard to win like that."
VanVleet played most of the second half with a wrap on a sprained left thumb, which he injured during the game.
"This one is on me," VanVleet said. "You've just got to find ways to be more effective. I'll take full responsibility for this one for sure."
Pascal Siakam led Toronto with 28 points and 11 rebounds.
The Celtics showed their depth with Malcolm Brogdon scoring 29 points off the bench
The Celtics will finish behind Milwaukee and ahead of the third-place Philadelphia 76ers in the Eastern Conference seedings entering the playoffs
"It's good," Celtics coach Joe Mazzulla said. "I'm happy for our guys. Seeding doesn't matter as much as the mindset that we've had the entire season. ... I think we're developing the proper mindset as we head into the rest of the season and the playoffs, and so it's good. I'm happy for the guys, I'm happy for the win they had today.
Boston has also clinched first place in the Atlantic Division.
"You can't take stuff like that for granted," said Jaylen Brown, who had 25 points and 11 rebounds on Wednesday. "Being on a 50-plus-win team is an honor. It takes a lot of hard work that goes into that. It doesn't come around as often as you probably think it does. And to be a part of it is a blessing for sure."
In just his third start and 18th game with the Celtics, Mike Muscala scored 12 points against the Raptors
"I think (depth) is our biggest strength," Muscala said. "It's a really deep team. To be short-handed or to be able to have guys that can rest on back-to-backs, since I've been here, has been good for the team."
--Field Level Media