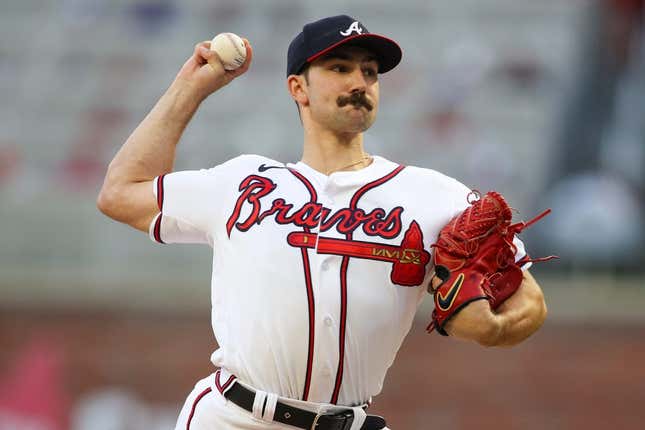 The Atlanta Braves have won six of their past seven games, including four via shutout.
How running an NFL team is like running a restaurant | Chef Emeril Lagasse
Owners of the majors' best record, the Braves aim to continue their dominating ways on Friday when they open a three-game series against the visiting San Francisco Giants.
Atlanta completed its 11th series sweep of the season by posting a 5-0 victory over the New York Yankees on Tuesday and a 2-0 triumph on Wednesday.
The Braves overcame a brief three-game skid from Aug. 5-7 in which they surrendered 21 runs to win eight of their past 10 games.
"We had a little bit of a tough run with the pitching, and now it's solidified again," Atlanta manager Brian Snitker said. "I said earlier in the day, if they weather the storm and stay in there, there's going to be something good on the back end."
The Braves will turn to star right-hander Spencer Strider (13-4, 3.75 ERA) to start Friday's contest.
Strider, 24, is tied for the majors' lead in wins while his 217 strikeouts have him comfortably atop that department.
He answered a tough start on Aug. 7 in a loss to the Pittsburgh Pirates in which he yielded six runs in 2 2/3 innings by scattering three hits over seven scoreless frames in a 6-0 romp over the New York Mets on Saturday.
Strider is 0-1 with an 8.31 ERA in two career starts against San Francisco.
Eddie Rosario belted a two-run homer in the second inning to provide all the offense the Braves would need on Wednesday against the Yankees. He has gone deep in two of his past three games and is 10-for-31 with nine RBIs and six runs over his past nine contests.
San Francisco right-hander Alex Cobb (6-4, 3.62) is expected to get the start on Friday.
Selected as an All-Star for the first time this season, Cobb limped out of the break by yielding at least five runs in three of his past five starts and seven homers during that stretch. He permitted six runs on nine hits in 4 1/3 innings of a 9-3 drubbing by the Texas Rangers on Saturday.
"I think everyone is (feeling the effects of the season)," Cobb said, per the East Bay Times. "It's August. Everybody's trying to catch a second wind and sprint to the finish line. You're holding the postseason in the palm of your hands and try not to let that affect you too much.
"You go through a season and you have your high points and you have your low points. This is one of those, I think for me individually and for the team. You try to get out of those as quick as possible. Everybody wants to be the guy to get the team out of it."
Cobb, 35, has fared well in three career starts against Atlanta, posting a 2-0 record with a 1.29 ERA.
The Giants fell for the sixth time in their last eight games with a 6-1 setback to the Tampa Bay Rays on Wednesday.
Johan Camargo, who spent his first five major league seasons with Atlanta, is 3-for-7 with San Francisco after competing in Triple-A with three different organizations this season.
—Field Level Media