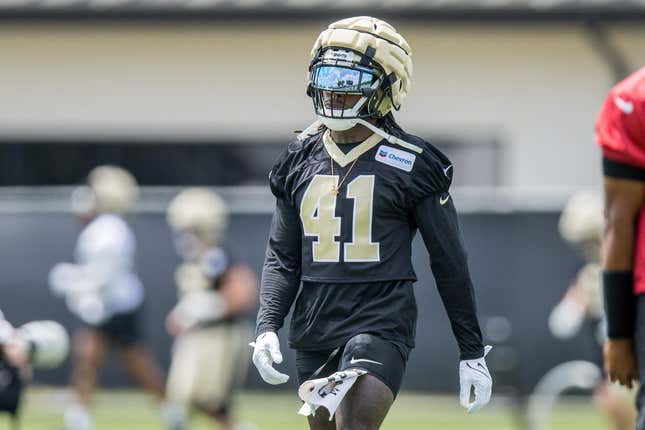 New Orleans Saints running back Alvin Kamara pleaded no contest to a misdemeanor charge of breach of peace on Tuesday, avoiding trial in the case in which a man was beaten at a Las Vegas nightclub last year
How running an NFL team is like running a restaurant | Chef Emeril Lagasse
The felony charge against him was dropped.
Kamara was sentenced to community service and will have to pay $100,000 to the victim for medical bills, Las Vegas TV station 8NewsNow reported.
A trial was set to begin July 31. Kamara pleaded not guilty to felony charges of conspiracy to commit battery at his arraignment in March.
A suspension from the NFL likely is forthcoming.
Kamara, Cincinnati Bengals defensive back Chris Lammons and two others were all indicted in February on charges of conspiracy to commit battery, stemming from the alleged beating of a man outside of a Vegas nightclub in February 2022.
According to police, video evidence shows Kamara punching a man eight times. The alleged victim was knocked unconscious and sustained an orbital fracture to his right eye, police said. After the man fell, he was allegedly stomped on by others in Kamara's group.
The alleged victim, identified in court documents as Darnell Greene of Texas, filed a $10 million civil lawsuit in the Civil District Court of Orleans (La.) against Kamara last October. In the complaint, Greene said he will need continued medical care, including surgeries, to treat injuries he said he sustained in the alleged attack.
The alleged incident occurred at Drai's After Hours nightclub, located in the basement of the Cromwell Hotel.
Kamara, 27, appeared in 15 games (13 starts) and ran for 897 yards and two touchdowns in 2022. The five-time Pro Bowl selection added 57 catches for 490 yards and two TDs.
--Field Level Media