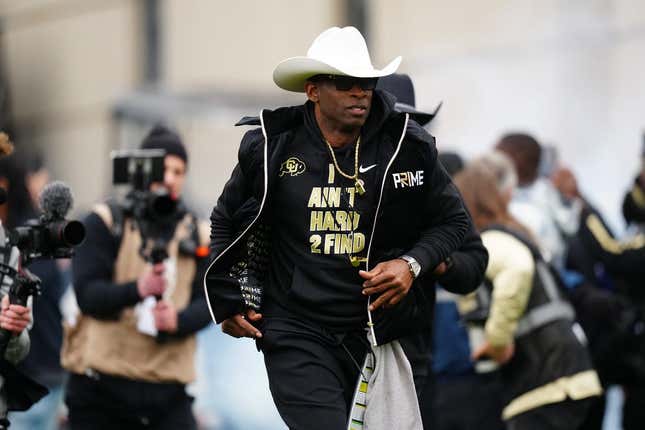 The University of Colorado and Deion Sanders' business manager have agreed on a contract for a documentary series about the football team's first-year head coach to be shown on Amazon Prime, USA Today reported.
Is Texas or Florida State a bigger national title contender? | Agree to Disagree
Colorado will not be compensated by SMAC Productions, which is co-founded along with SMAC Entertainment by Sanders' business manager, Constance Schwartz-Morini. Instead, the university feels it will benefit from publicity and other advantages for the Boulder campus.
"The exposure of hiring Coach Prime (Sanders) has already paid dividends in the form of record-breaking ticket and merchandise sales, and we are confident the documentary will only increase these 'Prime Effect' impacts throughout the university," Colorado spokesman Steve Hurlbert told USA Today.
Hurlbert confirmed that Colorado did not ask for financial compensation, unlike similar arrangements for other college programs such as Michigan football, which was paid $2.25 million for access and licensing for a 2017 show on Amazon, according to the report. Kentucky men's basketball coach John Calipari received $1 million from the producers of a docuseries about the program, and he said he donated it to charity.
The contract, according to the report, gives SMAC Productions wide access and calls for weekly meetings with the Colorado athletic director or his representatives with consultation about the content of each episode. The producers also have some dramatic license with the storytelling "to enhance the dramatic value of the Series," according to the contract, without misrepresenting or defaming Colorado or its individuals.
Hurlbert said there has been a "positive, collaborative working partnership between SMAC and CU Boulder on this project."
The Buffaloes' first game is Sept. 2 at TCU. The contract calls for access to filming through the 2023 season and program activities up to and including the team banquet.
Additional seasons of the series would be negotiated with Colorado.
SMAC produced a four-part series on Sanders' final season as the head coach of Jackson State in 2022, which streamed on Amazon.
The Buffaloes went 1-11 last season before hiring Sanders. Now, not only has the program garnered more attention, but season tickets have sold out for the first time since 1996, USA Today reported. The spring football game sold out for the first time, period.
"This documentary gives an unprecedented look at one of the highest-profile college coaching jobs in America," a spokesperson for SMAC Entertainment said in a statement to USA Today Sports. "The access and participation from the school and the students will showcase real-time moments of turning a football program around while bringing global exposure to the University of Colorado."
SMAC Entertainment manages Sanders and his two sons on the team, Shedeur and Shilo, as well as cornerback/receiver Travis Hunter. Sam Morini, Schwartz-Marini's nephew, is a SMAC employee and Deion Sanders' day-to-day manager.
—Field Level Media