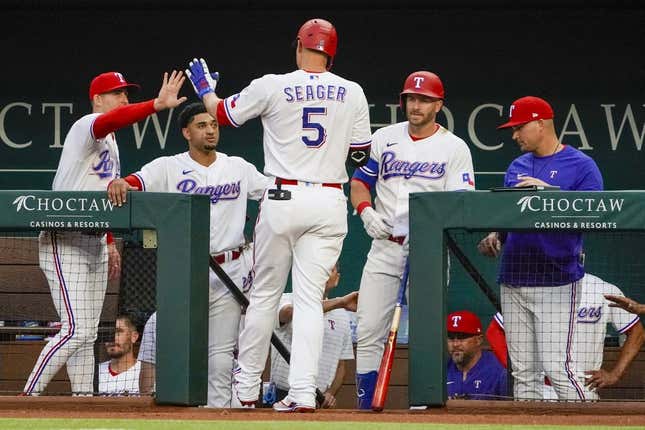 Adolis Garcia hit a grand slam in a seven-run sixth inning, Andrew Heaney broke a strikeout record set by Nolan Ryan, and the Texas Rangers rolled to an 11-2 victory over the Kansas City Royals on Monday in Arlington, Texas
The Rangers fell behind early 1-0 as Royals leadoff man Bobby Witt Jr. scored on an error in the first inning. After that, though, the night belonged to the Rangers
Heaney (1-1) settled in, striking out the final two batters of the first inning, which started a stretch of nine straight strikeouts to set a club record and tie an American League mark. Heaney finished with 10 total strikeouts on the night.
Heaney broke Ryan's franchise single-game record when he fanned Vinnie Pasquantino for his eighth straight. Ryan whiffed seven in a row in 1991 against the then-California Angels.
Texas quickly erased the 1-0 deficit when Corey Seager hit a solo home run to right center in the bottom of the first. He drove in another run with a single in the third inning, and Nathaniel Lowe followed with an RBI double for a 3-1 lead.
Texas extended its lead to 4-1 in the fourth on a solo homer by catcher Jonah Heim. The Rangers then broke it open in the sixth, highlighted by Garcia's grand slam off Royals reliever Jose Cuas
Earlier in the inning, the bottom two batters in the Texas lineup produced. Bubba Thompson hit an RBI double and Travis Jankowski singled in two more runs.
Two Rangers relievers combined to allow one run over the final four innings. It came on Hunter Dozier's solo home run off Brock Burke in the seventh
Kansas City starter Zack Greinke (0-3) surrendered four runs (three earned) on six hits with one walk and three strikeouts over five innings.
--Field Level Media