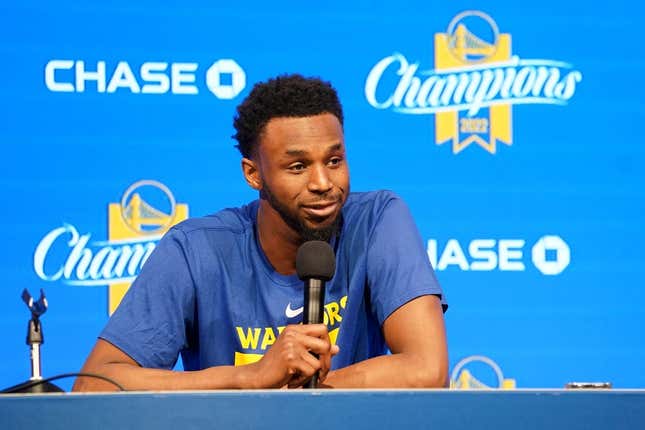 Andrew Wiggins is ready, but the Warriors will make the final call on when the Golden State forward returns to the court
Chris Paul should ride the bench next season | Keep it a Buck(et)
Wiggins said Tuesday he plans to play again soon. The Warriors all but eliminated any possibility Wiggins will play Friday for the first time in nearly two months
He was on the Golden State bench in street clothes on Tuesday and has missed 23 games dealing with a personal matter.
"There's no way he's playing in the next few days," Warriors coach Steve Kerr said. "But I think once we have an assessment over the next couple of days, we'll have a better idea of when he might be able to play.
The Warriors (42-38) visit Sacramento on Friday and close out the regular season Sunday at Portland. But assessing Wiggins' physical health and overall readiness is top priority for the Warriors
Wiggins declined to disclose details around his absence. Multiple reports Tuesday indicated Wiggins left the team to be with his father, who is dealing with a medical matter.
"I'd rather keep it private," he said. "It's for me and my family and people close to family."
Kerr said just having Wiggins around the team is a boost because of his "calming presence."
Wiggins would have an extra week to get back up to speed if the Warriors remain among the top six seeds in the Western Conference. If Golden State falls to seventh, it enters the play-in tournament involving the Western Conference teams seeded 7-10
"When you're in a certain situation and your family needs you and requires your attention and love, that's my first priority," Wiggins said. "My career, everything. Family is always first for me. When I felt like I was in a safe space to come back, we got everything settled, not totally settled, but in a safe place where I can come back."
Wiggins, 28, is averaging 17.1 points, 5.0 rebounds and 2.3 assists in 37 starts this season.
--Field Level Media