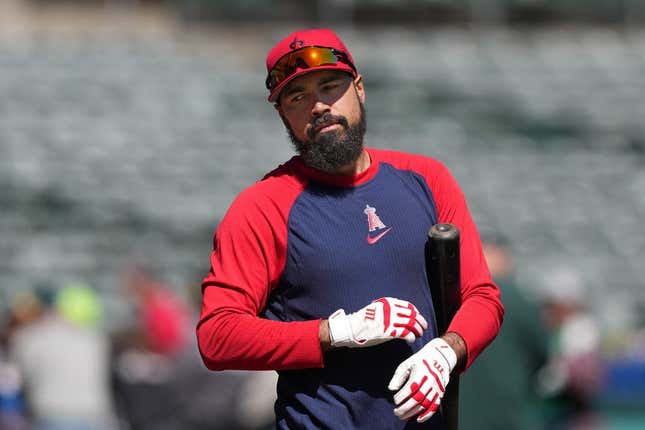 Los Angeles Angels third baseman Anthony Rendon was suspended five games and fined an undisclosed sum for his role in an altercation with a fan last Thursday night in a road game against the Oakland Athletics
Does Jimmy Butler have the best NBA Finals origin story? | Agree to Disagree
Rendon's suspension will start Monday night against the Seattle Mariners unless he files an appeal. If he does appeal, the discipline will be on hold until the process is resolved.
The incident occurred shortly after the final out of the Angels' 2-1 loss at the Oakland Coliseum on Opening Day
In a video of the incident, Rendon grabs the fan's shirt through a railing in Oakland and accuses him of calling him a "b--." The fan denied the name-calling and Rendon called him a "mother----er" and took a swipe at him but missed.
Asked about the incident before Saturday's afternoon game in Oakland, Rendon said, "I'm sorry, I can't comment."
Rendon, 32, was 0-for-3 with two strikeouts and a walk on Thursday. He has appeared in two games this season and is hitless in six at-bats with one RBI.
Rendon has been a disappointment for the Angels as he begins the fourth season of a seven-year, $245 million deal. He has just 20 homers and 90 RBIs and a .249 average in 159 games over three seasons plus two 2023 appearances
Last season, a wrist injury helped limit Rendon to 47 games. He batted. 229 with five homers and 24 RBIs.
--Field Level Media