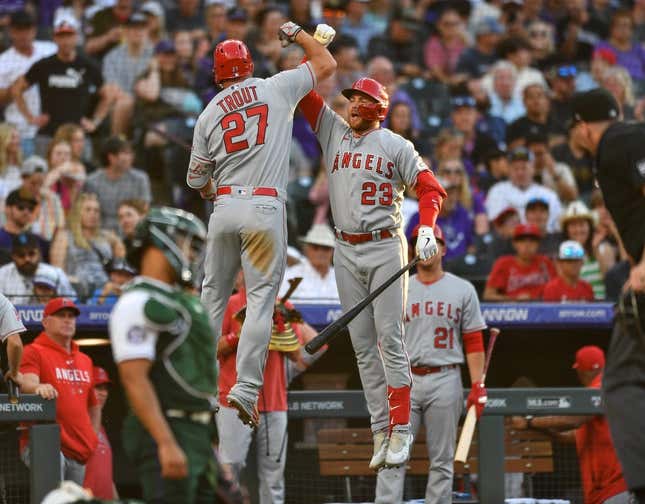 It will be tough for the Los Angeles Angels to top what they accomplished Saturday night in Denver
Is Texas or Florida State a bigger national title contender? | Agree to Disagree
The Angels set franchise records for runs (25) and hits (28) and had consecutive innings in which they scored 13 and eight runs
But the stunning 25-1 win over the Colorado Rockies on Saturday night counts as just one victory in the standings, so Los Angeles will have to get back to business when the teams wrap up a three-game series on Sunday afternoon
The Angels will send Tyler Anderson (4-1, 5.64 ERA) to the mound against his former team. The Rockies will counter with Austin Gomber (4-7, 7.25) in a battle of left-handers
Los Angeles flexed its offensive muscle on Saturday night after squandering a lead in the series opener and losing 7-4. It's a lesson teams learn at Coors Field.
"You've got to have a lot of runs here," manager Phil Nevin said.
Anderson is not the only former Colorado player in the visiting dugout. Mike Moustakas packed up his locker in the Rockies clubhouse and moved to the other side after the Angels acquired him from Colorado in a trade announced following Saturday's game
Moustakas was signed to a minor league deal and made the Rockies' Opening Day roster. The veteran, who helped the Kansas City Royals win the World Series in 2015, was released by Cincinnati after the 2022 season. He hit .270 with four home runs in 47 games with Colorado this season
Moustakas goes from a team that has the worst record in the National League to one in contention for a playoff spot in the competitive American League.
The trade could be an indication the Rockies are ready to part with some veterans before the trade deadline. That could open up even more opportunities for young players, some of whom have taken advantage of extending playing time
Brenton Doyle has done that with good defense and speed. He also prevented a shutout Saturday with a solo home run in the eighth inning.
"It was a good swing for him," Colorado manager Bud Black said after Saturday night's loss. "I know there have been a couple of strikeouts over the last week for him, but he's a young player, 150 major league at-bats, he's going to continue to get opportunities. That type of swing and the defense he plays, the speed that he has, there's a player in there."
Anderson was a 2011 first-round pick of the Rockies and was a rotation mainstay from 2016-19 but he fell on hard times. He resurrected his career with the Los Angeles Dodgers last year and has built on that this season
Anderson is 1-3 with a 2.53 ERA in six career games (five starts) versus Colorado.
Gomber, who has lost his past three starts, has made just one career start against Los Angeles, and that came at Angel Stadium on July 27, 2021. He allowed two runs on five hits and struck out seven in six innings and got the decision in a 12-3 Colorado win.
--Field Level Media