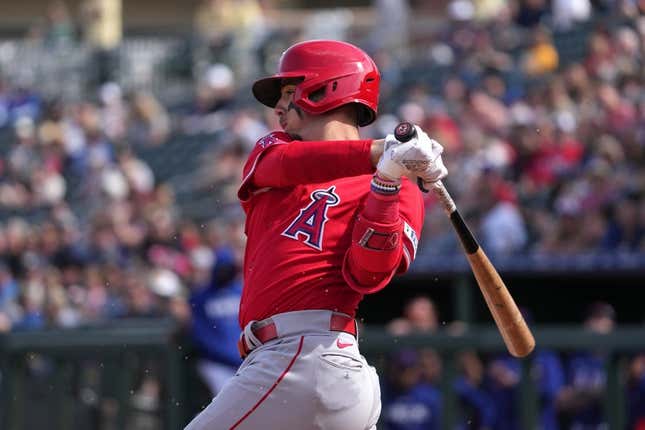 The Los Angeles Angels will host the Kansas City Royals on Saturday night in Anaheim, Calif., continuing their dual themes for the season
Chris Paul should ride the bench next season | Keep it a Buck(et)
Make a playoff run to persuade Shohei Ohtani to re-sign with the club, and get star Mike Trout into the postseason for the first time since 2014.
Still, while they are all about winning now, the Angels are looking to the future. Rookie catcher Logan O'Hoppe has been impressive but was placed on the 10-day injured list Friday with an injured shoulder
The Angels also are getting a look at 22-year-old shortstop Zach Neto, who was drafted less than a year ago but was promoted from Double-A Rocket City last Saturday and has started every game since
The Angels thought so highly of Neto that they sent veteran David Fletcher to Triple-A Salt Lake. Neto, 22, was the 13th overall selection in the MLB draft last July and was hitting .444 (12-for-27) with three homers, 10 RBIs and a 1.374 OPS for the Trash Pandas
"I was kind of shocked a little bit," Neto said of his promotion. "I didn't think it was going to be that early. ... Getting pulled out of the game early (at Rocket City) and hearing that news, there are no words to describe it. It was awesome."
Neto is off to a slow start at the plate in seven games with the Angels but has played well defensively. He went 0-for-1 but reached base twice when he was hit by pitches twice in Friday's 2-0 series-opening win over the Royals and overall is hitting .130 (3-for-23). he has been hit by a pitch five times in his brief major league career
Left-hander Tyler Anderson (1-0, 6.75 ERA) will make his fourth start of the season Saturday for the Angels. After a strong performance his first time out -- six shutout innings in a win against the Oakland Athletics -- he has struggled his past two times out, giving up 11 runs in 8 2/3 innings
Anderson is 0-2 with a 3.32 ERA in three career starts vs. Kansas City.
Right-hander Zack Greinke (0-3, 4.03 ) will make his fifth start of the season for Kansas City, still looking for his first victory. He hasn't pitched poorly, getting into the sixth inning in three of the four starts, and allowing three earned runs or less in three of four.
Greinke is 7-5 with a 3.43 ERA in 20 career games (19 starts) against the Angels
Greinke, like the other Royals pitchers, has been a victim of a lack of run support from the offense. The Royals average just 2.95 runs per game, and their total runs scored are tied with the Miami Marlins and Detroit Tigers (58) to make up the bottom three in the majors
Some of that can be explained by a lack of experience, as the Royals have only four position players on the active roster -- Matt Duffy, Salvador Perez, Hunter Dozier and Jackie Bradley Jr. -- who are at least 30
Duffy said it's tough for young hitters to adjust to major league pitching.
"At this level, the competition on the other side of the ball is the best in the world," Duffy said. "It's the best that athleticism and data has to offer. If you have a weak point or slow stretch, they are going to abuse you, and nobody is going to feel bad for you. That's a really powerful moment in a player's career."
--Field Level Media