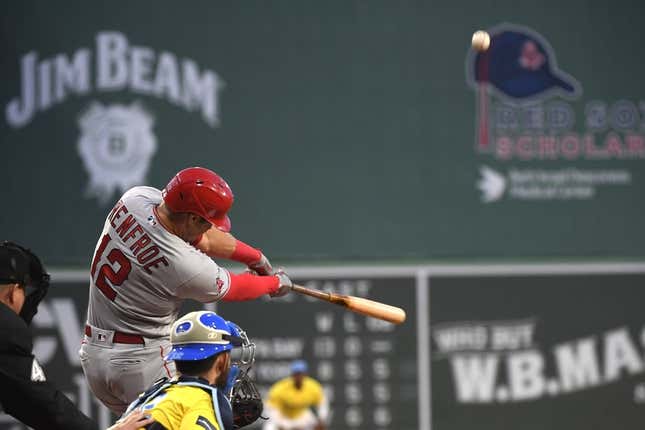 Enrique Hernandez went 2-for-4 with a run-scoring double, Rafael Devers homered and the Boston Red Sox took advantage of three errors by the visiting Los Angeles Angels in a 5-3 win on Friday night
Boston, which came off being swept in a four-game set at Tampa Bay, scored all five runs in the middle innings and emerged with the series-opening win despite being outhit 11-5.
Josh Winckowski (1-0) pitched three innings of one-hit ball in relief of Tanner Houck to post the win for the Red Sox
Kenley Jansen struck out the side, including Angels stars Mike Trout and Shohei Ohtani back-to-back, in the ninth inning to post his third save of the season
Anthony Rendon (3-for-4, run) and Jake Lamb (2-for-3) had multiple hits for the Angels, which had won consecutive games
The Angels were 1-for-14 with runners in scoring position
Jimmy Herget (0-2) was tagged with the eventual winning run while relieving southpaw Patrick Sandoval after 3 2/3 innings.
The Angels strung together a pair of two-out hits to take the lead in the first inning against Houck. After Ohtani walked and Rendon drove a single to right, Renfroe's Green Monster-scraping double brought both runners home to make it 2-0
Houck bounced back to finish his four-inning outing with three consecutive scoreless frames, striking out a season-high six.
After Sandoval opened the game with three shutout innings, a pair of errors led to unearned runs that helped the Red Sox draw even at 2-2 in the fourth
Devers reached on an error and scored on Hernandez's RBI double into the right-field corner to begin the game-tying rally. Sandoval followed with back-to-back strikeouts, but Connor Wong then walked and came in after Rendon threw away Yu Chang's grounder to third.
Sandoval was charged with three unearned runs on three hits and three walks, striking out six.
Devers flipped the score Boston's way with a one-out homer that snuck out inside Pesky's Pole in the fifth.
More defensive miscues with two outs allowed the Red Sox to increase their lead to 5-2 in the sixth. Wong scored as Rob Refsnyder reached on Rendon's second throwing error before a passed ball allowed Chang to touch home during the next at-bat
The Angels made it a two-run game as Taylor Ward hit a leadoff single and scored on Rendon's RBI grounder to second in the seventh
--Field Level Media