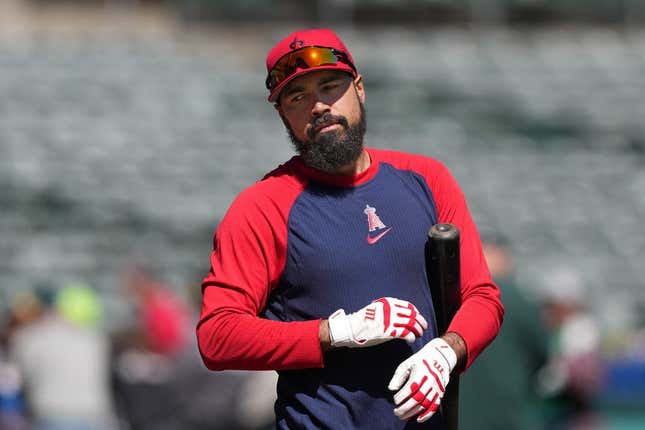 Anthony Rendon missed significant time in his first two seasons with the Los Angeles Angels because of injuries
Bass' ERA stinks, but not compared to who he is off the mound | Worst of the Week Countdown
The third baseman is out of the lineup again, only this time it's due to a four-game suspension by Major League Baseball for an altercation with a fan after a 2-1 loss Thursday at Oakland in the season opener.
Rendon began serving his suspension Monday as the Angels defeated host Seattle 7-3. He'll miss games Tuesday and Wednesday against the Mariners as well as the home opener Friday against the Toronto Blue Jays
"My emotions got the best of me," Rendon said. "I'm usually pretty good about interacting with fans. Always like to chirp back at them, kind of have fun with it. Me and the gentleman, we spoke on the phone. We both apologized about what had happened. We're both ready to move forward."
MLB initially gave Rendon a five-game ban, but he appealed and had it reduced by one game.
Rendon was walking from the Angels' dugout to the clubhouse when he heard comments from a fan standing near the dugout. Rendon called the fan toward the railing and then grabbed him by the shirt as they exchanged words. Rendon released his shirt and then swiped toward the fan's head with his hand but didn't hit him
Rendon said he later returned to the scene of the incident and tried to seek out the fan, "just to chat with him a little bit, but the security guard said he was gone."
"I can't be mad," Rendon said. "I'm a fan too, in other sports. I like heckling when I go to other sports events too, right? Because I'm a human being. For some reason that one got the best of me."
Angels manager Phil Nevin said he respected how Rendon handled the aftermath
"He's remorseful for everything that happened," Nevin said. "This doesn't at all change how I feel about him as a person, as a human being. He's a great leader on our team. He's accepted responsibility as a good leader in person would. Now we move on from it."
The Angels certainly have, scoring 26 runs in their three consecutive victories. Shohei Ohtani hit a tie-breaking, two-run homer in the fifth inning Monday and Taylor Ward added a two-run shot in the eighth
Five Angels relievers combined for 4 1/3 innings of scoreless ball, allowing the Mariners just one hit
The Mariners have lost four games in a row since a 3-0 victory against Cleveland in the season opener
"It's only five games into this season," Mariners first baseman Ty France said. "There's no reason to worry yet.
Seattle has scored more than four runs only once.
"It's been a struggle here early on. It's not for lack of trying or lack of effort or preparation," Mariners manager Scott Servais said. "But at the end of the day, you've got to get it done, and we haven't done it here.
Right-hander Luis Castillo (0-0, 0.00 ERA), who pitched six scoreless innings in the opener, allowing just one hit and striking out six, will try to end Seattle's skid. Castillo is 1-0 with a 2.77 ERA in two career starts against the Angels
The Angels are set to counter with lefty Jose Suarez (8-8, 3.96 ERA last season). Suarez is 4-3 with a 4.08 ERA in 11 career appearances against Seattle, including nine starts
--Field Level Media